From Haley Smith Kingsland, Stanford University
65° 46' N, 169° 33'W, June 17-18 — With Russia to port and the United States to starboard, the Healy paused for seven stations across the narrow Bering Strait. Farther north, scientists requested an eighth station on the Chukchi shelf. Research is on a roll, and many ICESCAPE teams have divided their work into twelve-hour shifts.
Instruments deployed at the Bering Strait transect measured properties of the water column at four different sea depths — 2 meters, 10 meters, 25, and 50. "The transect went really well, much better than I would have expected," said chief scientist Kevin Arrigo. "At one point we were even an hour and a half ahead of schedule!"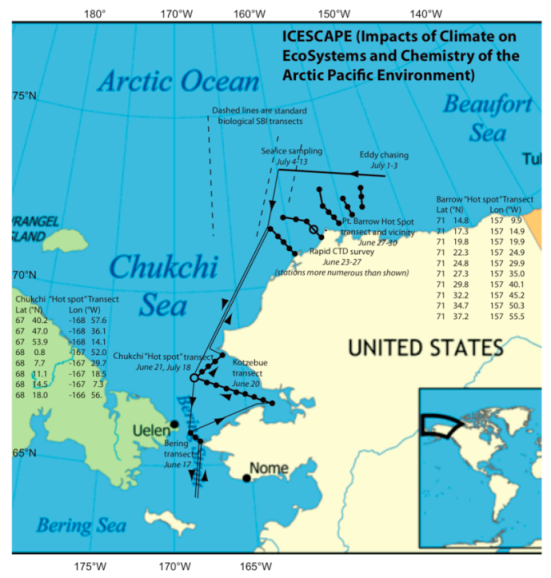 Here is ICESCAPE's cruise track delineated by transects. We started at the Bering Strait transect and will continue to many more research stations in the Kotzebue transect, Chuckchi Hot Spot, Barrow Hot Spot, and sea ice. You can follow the Healy's cruise track at <http://www.icefloe.net/cruisetrack.html> as well as <http://vislab-ccom.unh.edu/~schwehr/healy/>.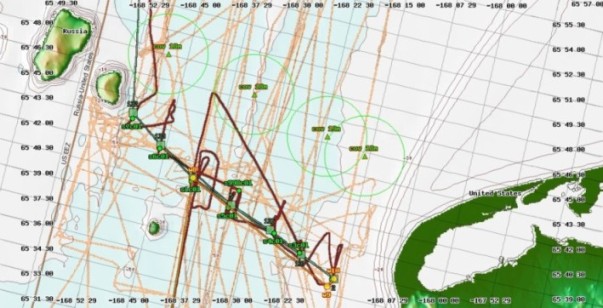 The light green squares represent the seven stations across the Bering Strait.
The International Date Line separates the two Diomede Islands, so residents of Little Diomede in the United States can gaze towards tomorrow on Big Diomede in Russia. Here, we spotted a small community on the very tip of Little Diomede Island. (Photo by Haley Smith Kingsland)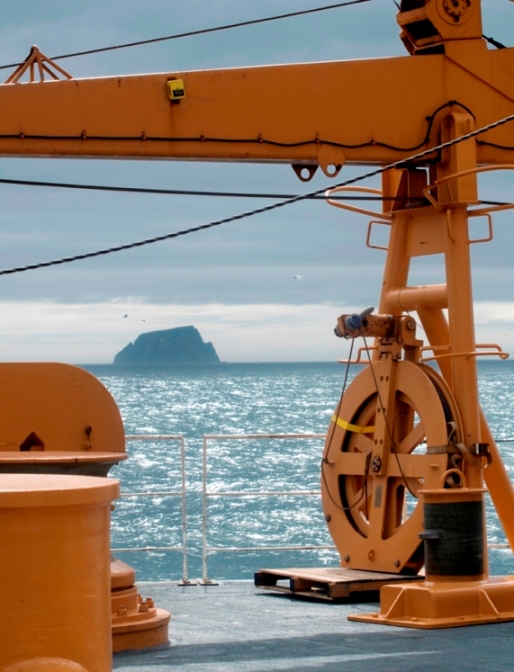 Fairway Rock from the fantail. (Photo by Haley Smith Kingsland)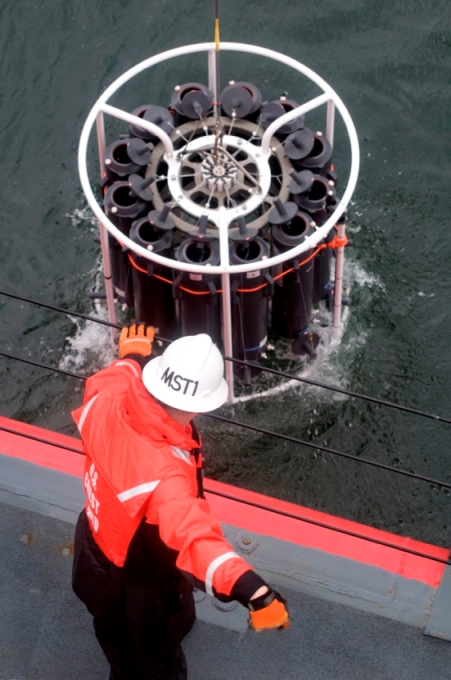 Marine science technician Horace Brittle, or MST1, lowers the CTD rosette into the ocean. (Photo by Haley Smith Kingsland)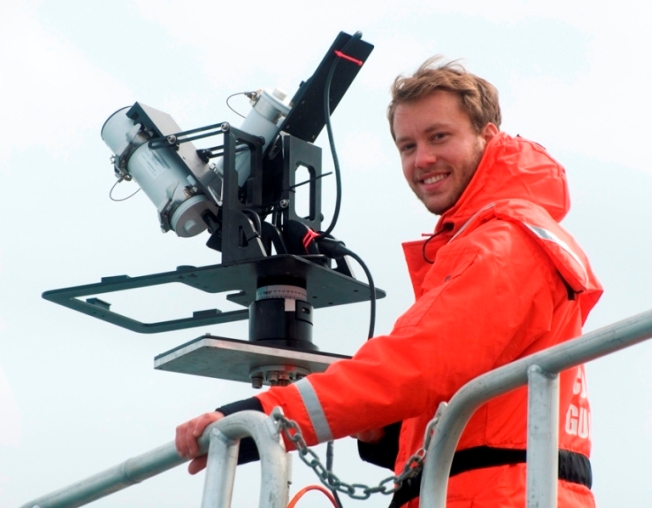 Elliot Weiss of the Scripps Institute of Oceanography operated a light sensor on the Healy's bow walkway. (Photo by Haley Smith Kingsland)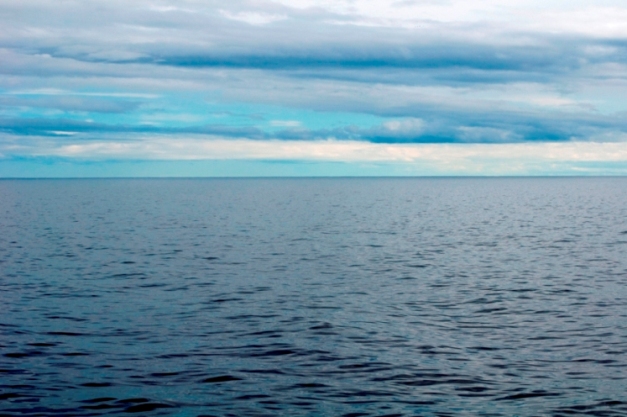 During the Bering Strait transect, we felt almost warm on deck. Temperatures were in the mid-40s! (Photo by Haley Smith Kingsland)
Station eight was the first station we deployed the ASB, or Arctic Survey Boat. From it Stan Hooker's team measured the optical properties of the ocean and collected water samples for those working in the main science lab. What's it like to conduct research from a small boat? "It's an excruciating amount of work," says Stan. "We're still in survival mode." (Photo by Haley Smith Kingsland)
 
At station eight the PRR went off the Healy on a cable near Siberia. "Be careful you don't deploy the package in Russian waters!" one of the marine science technicians warned. (Photo by Haley Smith Kingsland)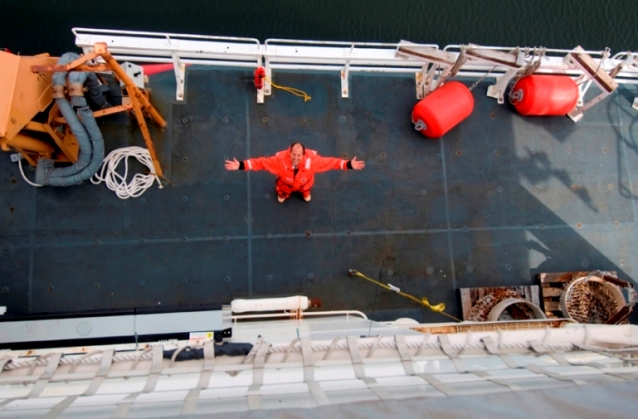 "We're playing hard at work and working hard at play in the Arctic!" joked Greg Mitchell of the Scripps Institute of Oceanography as he ran from bow to fantail while deploying his optical packages. (Photo by Haley Smith Kingsland)