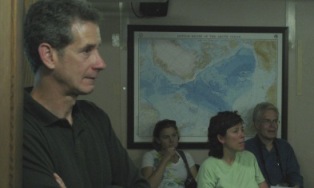 From: Kevin Arrigo, Stanford University
I have been on research cruises before, but this is my first time being Chief Scientist.  Here are a few early thoughts after a week on the job.
Let me start by saying that when the opportunity to lead the NASA-funded ICESCAPE program presented itself, naturally I jumped at the chance.  We would be doing important scientific work in the Arctic Ocean and I looked forward to the challenges of both helping to organize and lead such a complex oceanographic expedition. And while I welcomed the challenge, I didn't fully grasp its scope at the time. I'm beginning to, now.
For those of you who are not aware of what a Chief Scientist does, it is fair to say that we are the last word when it comes to making scientific decisions during a research cruise.  In my case, the position also included a great deal of pre-cruise planning and organization, but my primary responsibility is to ensure that we do the best science that we can possibly do while at sea.  Personally, I like to consult with the other scientists on board before deciding on things like where the ship will go and what we will sample when it gets there. That means lots of meetings. And teleconferences. And e-mail back and forth. And when we get on the ship, even more meetings. Stan Hooker, one of the scientists onboard the USCGC Healy quipped, "I have been to more science meetings in the first three days of this cruise than I have on any whole cruise in my entire life!"  Suffice it to say, I think meetings are important.
It also means keeping things on schedule. For that, we have a scientific plan of the day that I post on the "Board of Lies." And while I really don't mean to lie, the plan has an effective lifespan of about three seconds. Invariably, as soon as the plan is posted, some unforeseen event transpires that throws it all out of whack. Or maybe I'm just a lousy judge of how long things should take, I'm not sure which. All I know is that yesterday alone I probably posted more than a half dozen different versions of the plan of the day.
"Can I pump some water at this station?" asks Sharmila. "Sure," I say, knowing that it's going to slow us down by an hour and a half. Need to post a new plan.  The ice is heavier that we expected and the boat can't go as fast as I'd hoped.  Post a new plan. The three-hour sea ice station takes five hours. Post a new plan. I forgot to include the science meeting. A new plan. You get the idea. Changes are to be expected, but accounting for them sure keeps me busy!
Luckily for me, NASA put together a very knowledgeable group of scientists who are great to work with. Even though there are 50 of us and we work in so many different scientific disciplines, everyone is willing to look beyond their own self-interests and promote what is best for the program.  Sure, there are often strong opinions but there is also a willingness to cooperate. For this I am very grateful!
As chief scientist, I also rely heavily on Captain Rall and his crew, as does the entire science team. I have to say that this group of young men and women are a pleasure to work with. They have just the right blend of experience and enthusiasm and seem willing to do almost anything to ensure that our "mission" succeeds. They drive the ship, run the winches, operate the cranes, stage our equipment, ensure our safety, cook our food and they always do it with a pleasant attitude. We couldn't accomplish our goals without them.
I could go on, but it's time for another science meeting.