June 26, 2011
Coast Guard crew plan for a search and rescue operation. Credit: NASA/Kathryn Hansen
At 9 a.m. on the bridge of the Coast Guard Cutter Healy, Seaman Burgeson stood with binoculars and scanned the horizon for vessels. Every few minutes he flipped a switch, asking wipers to clear the spray from an increasingly agitated sea.
The mood was heavy as Coast Guard crew prepared for SAR, or "search and rescue." Earlier this morning the ship was just southwest of Nunivak Island, Alaska, when crew diverted the Healy from its northbound course and headed back south toward a tug boat in distress. Beacons onboard the tug boat Aries indicated contact with water, but the implications were uncertain.
"I woke up this morning and learned that we had been SAR diverted, and that information took about five minutes to sink in," Burgeson said. "But that's why I joined the Coast Guard — to save people."
A C-130 and helicopter flew to the scene for airborne assistance, while the Healy prepared for rescue and assistance from the sea.
The ship pushed on through dropping pressure and a growing storm that brought 13-foot swells and 30-knot winds. "We're not going to slow down," Burgeson said. "We want to get there as soon as possible."
Waves crash over the Healy as the ship powered through high seas and winds. Credit: NASA/Kathryn Hansen
An update at 11 a.m. revealed that the Aries was sinking and that four people aboard had evacuated to the adrift barge. The Healy pressed on and expected to be on the scene by 6 p.m. for back up and assistance.
At 2:15 p.m., Healy crew announced that a Coast Guard helicopter successfully rescued all four people stranded on the barge and returned them to safety. No longer needed on the scene, the Healy turned around and resumed its northward course.
The rescue is not the first drama to unfold for ICESCAPE scientists. Two days before embarking on the mission, scientists at port in Dutch Harbor, Alaska, drove, ran or hiked to higher ground after a tsunami evacuation was ordered on June 23 after a magnitude-7.2 earthquake stretch the Fox Islands in Alaska's Aleutian Islands. Relieved, we descended the hills when it was clear that a damaging wave did not materialize.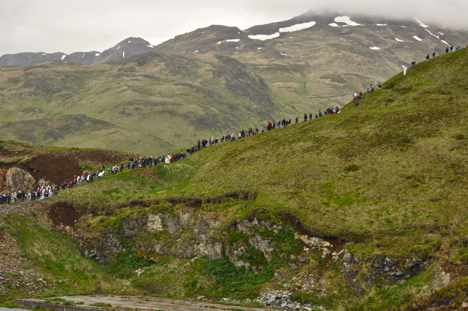 Residents, workers and scientists in Dutch Harbor, Alaska, climbed to higher ground during a tsunami evacuation. Credit: Chris Polashenski
"It's the law of averages," said Kevin Arrigo, ICESCAPE's chief scientist. "Last year everything went so well."
And for the most part, the mission so far this year is going well. In a single day, instrument teams turned the ship's lab from an empty to bustling space full of sampling and testing equipment bungeed or drilled into place (a necessity at sea). Discussions are peppered again with talk of bottle washing, phytoplankton counting, and ice coring as we re-approach our first science station at the mouth of the Yukon River.
Scientists took the opportune moment to dance to the song "Pressure Drop" (left) as we approached a storm and barometric pressure dropped, evident in trends recorded by the ship's barograph instrument (right). Credit: NASA/Kathryn Hansen
Long: 168 2.836 W   Lat: 59 9.859 N