June 30, 2011

Last year, ICESCAPE scientists on board the Healy were surprised by the massively productive bloom of phytoplankton in the Chukchi hotspot. This year, satellite measurements of ocean color had led us to believe the bloom wouldn't be as hot.
Upon returning to the site today, we learned that indeed, "the hotspot is not so hot," said Kevin Arrigo, ICESCAPE chief scientist.
"After our extreme hotspot finding last year we've come back and its still seems to be a productive zone but much less than last year," said Zach Brown, of Stanford University (right). "My guess is that what we're seeing is due to a combination of factors."
The first factor, according to Brown, is because we are arriving on the scene about two weeks later and the bloom has already peaked. In addition, sea ice retreated earlier this year than last, and large blooms of phytoplankton in the Arctic tend to accompany that ice edge.
What scientists are seeing, however, is a large amount of chlorophyll below the ocean's surface.
"That probably means that the bloom happened perhaps a month ago and now it's slowly sinking to the bottom where it will land and feed a very productive benthic community, Brown said. "But for now, the surface waters are nowhere near what they were last time."
Scientists, however, are only beginning to analyze the series of events that put a chill on the 2011 Chukchi hotspot.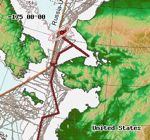 Ship Position at 2011/06/30 20:34:00 
Long: 168 24.026 W   Lat: 67 50.728 N