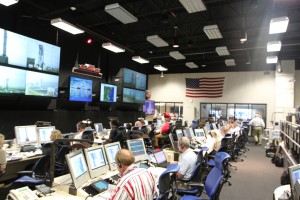 Orbital Sciences Corp.'s Cygnus spacecraft with cargo for the International Space Station is scheduled to launch aboard an Antares rocket on Sunday, July 13 at 12:52 p.m. EDT. Liftoff will be from the Mid-Atlantic Regional Spaceport Pad 0A at NASA's Wallops Flight Facility in Virginia. NASA Television coverage of the launch will begin at noon.
The countdown to the launch starts at T-minus 3 hours, 50 minutes, roughly 9 a.m., and features a number of "holds." These planned pauses vary in length, but they all allow the team to target a precise launch window and provide a cushion of time for various tasks and procedures without affecting the overall schedule.
The launch window (that is, the time period on any given launch day in which liftoff must occur for the spacecraft to reach its target) on July 13 is about five minutes long.
https://www.youtube.com/watch?v=https://www.youtube.com/watch?v=xwSCGP3R_dg[/embedyt]
This animation depicts an Antares launch and the flight and capture of a Cygnus capsule.
The liquid-fueled first stage of Antares ignites at T-minus zero, and the rocket lifts off about two seconds later.
"MECO," or main engine cutoff, occurs about four minutes after that, at which point Antares will be about 63 miles high, traveling about 10,118 mph. The first stage separates a few seconds later. About 90 seconds later, the fairing (the protective covering around Cygnus at the top of the rocket) opens and separates.
The solid-fueled second stage ignites and burns for a bit longer than two minutes. Two minutes after that burn, the payload (that is, the Cygnus cargo spacecraft) separates from the second stage. At that point, Cygnus will be about 125 miles high, traveling at 16,835 mph.
Just over 10 minutes after launch, Cygnus will reach its preliminary orbit, deploy its solar arrays and begin a carefully choreographed series of engine firings to reach the station.
› NASA's Orbital website
› Latest Orb-2 TV launch coverage information
› Launch viewing maps from Orbital Sciences Corp.
› Latest Student Science Heads For Space
› Orbital Mission Delivers Delights to Station
› NASA Launches Smartphone Upgrade and CubeSat