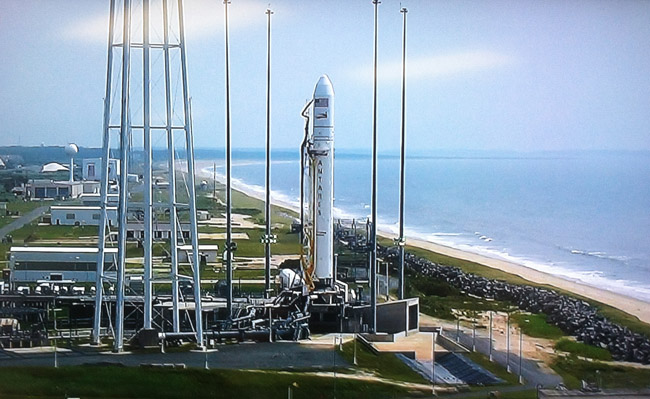 The countdown is progressing smoothly today for the launch of Orbital Sciences Corporation's Antares rocket, with the Cygnus cargo spacecraft on top. With roughly 2 hours, 12 minutes left in the countdown, weather remains 90 percent "go."
Liftoff is scheduled for 12:52 p.m. EDT from the Mid-Atlantic Spaceport's Pad 0A at NASA's Wallops Flight Facility in Virginia. There is a five minute window for launch.
Live coverage of the launch on NASA TV will begin at noon, with general footage of the mission airing at 11:30 a.m.
Cygnus is loaded with about 3,300 pounds of science investigations, food, supplies and hardware for the space station and its crew.
A launch this afternoon will result in Cygnus catching up to the space station on Wednesday, July 16. Cygnus will be grappled at approximately 6:39 a.m. by Commander Steve Swanson of NASA. He will be assisted in a backup position by Flight Engineer Alexander Gerst of the European Space Agency. Cygnus will be attached to the Earth-facing port of the station's Harmony node and will remain in place approximately one month. It is scheduled depart the space station on August 15.
This is Orbital's second contracted mission to the International Space Station under its Commercial Resupply Services contract with NASA.
› NASA's Orbital website
› Launch viewing maps from Orbital Sciences Corp.
› Latest Student Science Heads For Space
› Orbital Mission Delivers Delights to Station
› NASA Launches Smartphone Upgrade and CubeSat