The launch of Northrop Grumman's Antares rocket with Cygnus cargo spacecraft has been postponed due to the poor weather forecast for the original launch window on Nov. 15. The revised launch window now opens at 4:23 a.m. EST on Nov. 16 from Pad 0A of Virginia Space's Mid-Atlantic Regional Spaceport, located at NASA's Wallops Flight Facility on Virginia's Eastern Shore.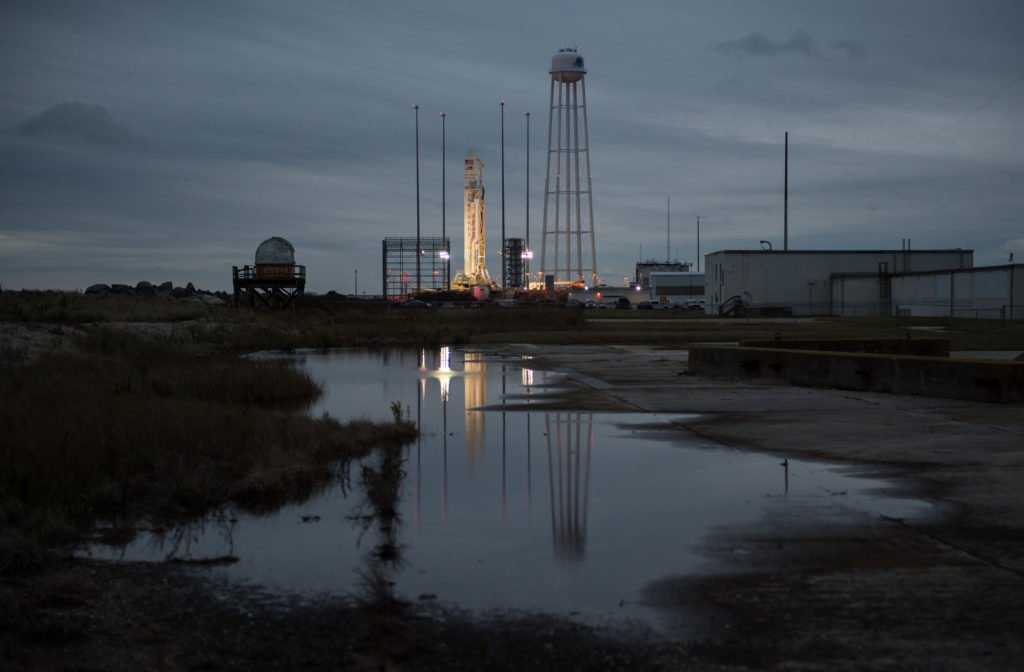 Today's Wallops range forecast for Nov. 15 assessed weather conditions at 90-percent unfavorable for a launch, with the main concerns being thick clouds, disturbed weather and low cloud ceilings. Heavy rainfall (1-2 inches) and high wind gusts (45-50 mph) are expected.
Rainfall looks to taper off early Friday morning, but strong northwesterly winds are still expected to affect the Eastern Shore during Friday's backup count and launch window. Winds are expected to be sustained at 25-30 mph with gusts up to 35 mph. Sea states will also be of concern with the prolonged high wind event: Seas are expected to be 8-12 feet during Friday morning's count and slightly falling off to 8-10 feet during the launch window.
Conditions look to become quite favorable for a launch Saturday morning with high pressure building into the southeastern U.S. and the Eastern Shore, providing lighter winds and mostly clear to clear skies. One caveat to Saturday however, is that the system expected to impact the Wallops region Thursday will drag a strong front across Bermuda on Friday into early Saturday, providing potentially heavy rainfall and strong winds there prior to the launch window. At this time, conditions do look to improve enough in
Bermuda prior to the expected T-0 Saturday morning with winds diminishing and light rainfall lingering.
Weather in Bermuda is a factor because NASA's Bermuda Tracking Station supports tracking, telemetry, command and control of launches from both Wallops and Florida.
Under NASA's Commercial Resupply Services contract, Cygnus will carry about 7,400 pounds of crew supplies and hardware to the International Space Station, including science and research in support of dozens of research investigations.