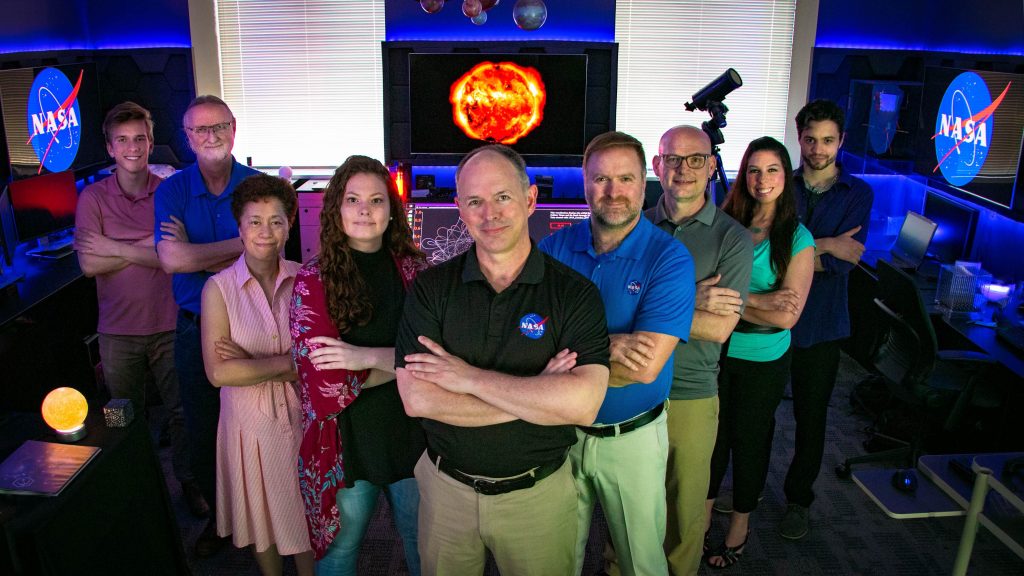 The International Society for Technology in Education (ISTE) Conference is an EdTech event that brings educators together to explore the future of technology. ISTE is virtual this year ­– and so is the NASA Playground. In this Playground, the NASA STEAM Innovation Lab will work with expert educators to showcase the latest projects from the lab, each of which was developed using ISTE's educational standards. These six stations, available live on December 5, 2020, demonstrate innovative ways to bring space science activities to the classroom or virtual teaching. Each project will be presented by a NASA expert and an ISTE educator and will feature a replicable lesson or learning activity that educators can use right away.
Maggie Goes to Mars
With this gamified AR/VR challenge, student help get a canine, Maggie, to Mars. Dr. Rhonda Christensen, a presenter at the station from the University of North Texas, says, "We hope this challenge will allow teachers a way to teach space science concepts in an engaging way to their students who may be at a distance. We will show educators how they might engage their students in space science using innovative technologies like augmented and virtual reality – and it can be done by students at home!"
Feeling Hot, Hot, Hot: Up Close with the Sun
In this exciting augmented reality presentation, educators will observe the Sun through Parker Solar Probe and use Merge Cube to learn more about how NASA is studying the Sun's corona. "This station is important because augmented reality is a great tool to help students' problem solving and complex thinking skills," Lani Sasser, NASA STEAM Innovation Lab Technology Specialist and presenter says. "This leads to a better contextual understanding of the topic, in addition to a physical learning educational component.
Family Science Night – Virtual Edition
NASA's Family Science Night curriculum can be delivered virtually so families can engage with space science. Christina Milotte, a presenter at the NASA Playground and creator of the curriculum, will be presenting about the activity 'Lunar-Surface-In-a-Box!' She says, "This activity, designed to get families to think about how terrain affects lunar exploration, is just one of the activities we will be showcasing from the NASA Family Science Night @Home curriculum." With this presentation, the team aims to give educators tools and tricks for facilitating family learning at home through a virtual platform.
A Night Under the Stars
Contribute to NASA citizen science by learning how to take pictures with of the night sky with your smartphone and learn about the effects of light pollution on astronomy. "Smartphone cameras can be used to capture images of many kinds of astronomical objects, both with a simple tripod and with a telescope. You can even photograph the Northern Lights, sundogs and satellites streaking across the sky," Dr. Sten Odenwald, STEAM Lab member and presenter of this station says. "This Playground will show you how to do it, and have lots of fun taking spectacular photos too!" Dr. Odenwald even has a new book out about Smartphone Astrophotography, that you can explore at home.
Robots Have Sensors, Too!
With this presentation on robotic small sensors, educators can learn more about how NASA uses robots in Earth and space explorations and how small sensors are used as important instruments on robotic missions. "Robotics provides numerous technologies that support STEM education," Leslie Garrison, presenter of this station, says. "In addition to being fun, robots engage beginners and advanced students and incorporate many of the fundamental STEM concepts providing a learning platform that students enjoy. By teaching robotics, educators can prepare today's students for tomorrows workplace."
Space Storm Warning!
Wi-Fi-enabled coding can help your students see when space weather hits Earth's magnetosphere. Presenter Kaushal Patel hopes educators will learn how to "visualize NASA Science and data streams with WiFi enabled lightings using microcomputer" and bring that knowledge to their students.
After the conference is over, all of the presentations will be available for free. We'll add the link to the bottom of this post once those are up. You can also subscribe to our Twitter, @NASASpaceScienceEdu, so you can get notified as soon as they're up.