The NASA STEM Innovation Lab recently had the pleasure of participating in the International Society for Technology in Education annual conference in Philadelphia. The team was able to bring our virtual reality, coding and electronics, and digital fabrication and design programs. Our stations also featured digital applications, mobile sensors and citizen science, an accessible eclipse experience for the visually impaired, and even a planetarium. People who walked through the NASA Playground could attend 25 flash talks from team members ranging from makerspaces in a Navajo community to where to begin with a 3D printer.
Our interactions with the many thoughtful and engaging conference-goers who stopped by the NASA Playground were the greatest part of ISTE for many NASA team members. These are the biggest questions that participants asked us and we have answers!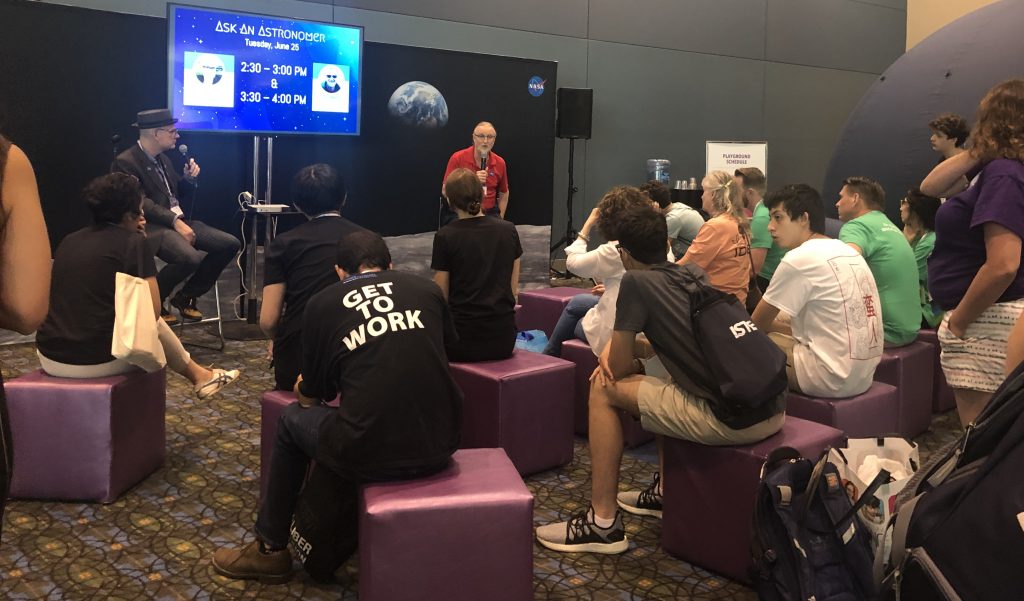 "Have you tried this?"
This is our favorite question! Everyone from NASA was inundated with thoughts and creative ideas from people who walked through our stations. Attendees shared everything from ways to integrate our projects into the classroom or types of research that they'd like to see explored with the team. We hope our programs can inspire new ideas and technologies and we want to hear them!
"How Can My Whole Classroom Participate?"
Or this question's cousin: "Can students work together while doing this project?" We have many ideas that can involve multiple students—like our coding and electronics or papercutting projects—but we were motivated to develop even more group-centric programs. Stay tuned for those!
"How Much Does This Cost?"
We work hard to include low-end to high-end technologies in our work. That's why we're currently incorporating more NASA content into papercutting projects—it's just paper! Our mobile sensors and citizen science projects, as well as the app Spacecraft AR, only require a smartphone or tablet and we're creating more projects that are low or no cost.
"Do you have a curriculum or lesson plans?"
As a thinktank and makerspace, we generate and collect ideas that could be further developed into lesson plans and curriculum by our users. We hope that people will get inspired to build off these malleable ideas and incorporate them into their programs the ways they best see fit. However, NASA has developed a large number of lesson plans that teachers can use and bring into their classroom for more structured learning that you can access here.
"Can you work with us on our makerspace?"
Yes! This is the ultimate goal of NASA's STEM Innovation Lab. We want to have NASA Outposts at makerspaces and STEM labs all over the country and potentially all over the world. To stay up-to-date on what's next for this program, subscribe to our newsletter or contact us directly.