The answer is yes if you consider that three NASA astronauts are practicing future off-planet spacewalks undersea this week off the Florida coast.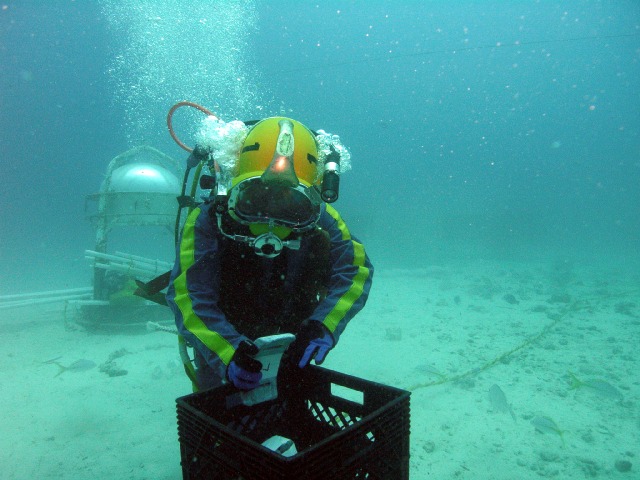 The three astronauts, joined by a Constellation Program engineer and a team of diving "buddies," are performing engineering evaluations for next spring's NEEMO 14 mission.
The NASA Extreme Environment Mission Operations 14 (NEEMO 14) was slipped from October to allow the National Oceanic and Atmospheric Administration (NOAA) to complete a safety review of its Aquarius underwater laboratory.
Aquarius, located three miles off Key Largo in the Florida Keys National Marine Sanctuary, is the world's only permanent underwater habitat and laboratory
The team of NASA divers and astronauts spent last week doing preliminary work at a Key Largo, Fla., base.  This week the team will perform some engineering evaluations on a low-fidelity, full scale mock-up of the Altair lunar lander positioned next to NOAA's lab. 
The engineering tests include 1/6 g operational evaluations of unloading a mock-up of the Lunar Electric Rover off the lander platform, rover hatch size evaluations, and incapacitated crew rescue operations.
Veteran space shuttle pilot Eric Boe is leading the NASA team. Joining Boe are veteran astronauts and aquanauts Mike Gernhardt and Richard Arnold, along with Lunar Electric Rover deputy project manager Andrew Abercromby.
The rover and lander mockups rival the size of the vehicles NASA is designing for future planetary exploration. The lander mockup is wider than a school bus is long and almost three times as high, measuring 45 feet wide and 28 feet high, including a six-foot high crane. The rover mockup is slightly larger than a full-size SUV, standing eight feet tall and 14 feet long.
Boe completed his first space flight as pilot on STS-126 in November 2008 and is assigned to pilot the STS-133 mission targeted for September 2010. Gernhardt is a veteran of four space shuttle flights, four spacewalks and two NEEMO missions. Arnold completed two spacewalks during his first spaceflight, the STS-119 mission in March and he was part of the NEEMO 13 mission in August 2007.
Andrew Abercromby serves as the deputy project manager and a biomedical engineer for the Lunar Electric Rover project and deputy lead for the Exploration Analogs and Mission Development project. As part of the Human Research Program, he is a project engineer for the Extravehicular Activity Physiology, Systems and Performance project for Wyle Integrated Science and Engineering Group in Houston.  He has extensive experience in planning and executing field test operations including NEEMO and NASA's Haughton Mars Project, Desert RATS, and the Pavilion Lake Research Project.
NEEMO missions are a cooperative project among NASA, NOAA and University of North Carolina at Wilmington the university.