An Orion mockup has hit the road again for another round of testing. The full-scale vehicle is taking part in a series of tests known as PORT (Post-landing Orion Recovery Tests) to study the environment for astronauts and recovery crews after an Orion ocean splashdown. We invite you to come out and check out America's next crew exploration vehicle during several stops on its Florida to Texas trek:
— Challenger, Center, Tallahassee, Fla., Mon., Aug. 10, noon to 3 p.m. EDT
— Naval Aviation Museum, Pensacola, Fla., Tues., Aug. 11, 9 a.m. to 3 p.m. CDT
— StenniSphere, NASA's Stennis Space Center, Miss., Wed., Aug. 12, 10 a.m. to 2:30 p.m. CDT.
— Museum of Natural Science, Jackson, Miss., Aug. 13, 8 a.m. to 1 p.m. CDT
— NASA's Johnson Space Center, Houston, Texas, Aug. 14, 3 p.m. CDT through Aug. 17, approximately 9 a.m. CDT
Check out a photo from the last test and get a preview of what you can see this week (minus the water).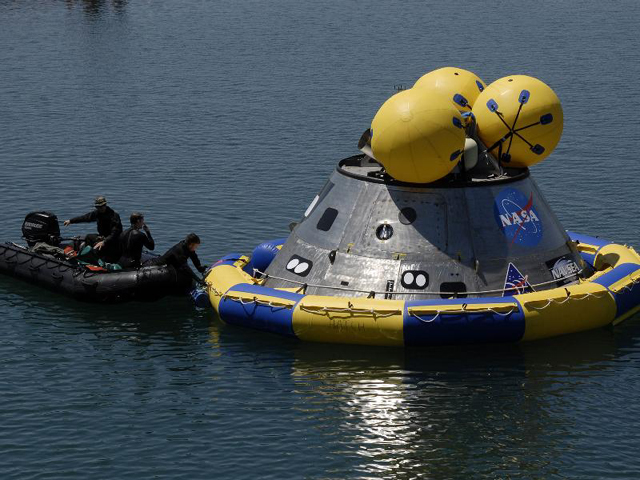 You can read more in the news release: https://www.nasa.gov/home/hqnews/2009/aug/HQ_09_183_Orion_on_the_Move.html
You can also follow Orion on twitter: www.twitter.com/Orioncrewmodule