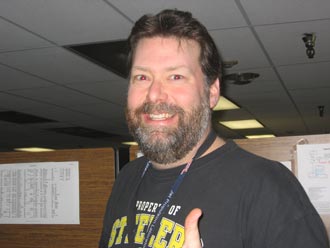 Todd Barber, Cassini Lead Propulsion Engineer
Howdy, folks.  We've just heard from the Cassini mission control area and
can report that the data downlink has started!  The signal was received via
the Goldstone, California, Deep Space Network station at roughly 7:01 pm
PDT.  Our engineers are assessing the first post-flyby data as we speak,
but everything looks great at first blush.
The downlink data playback will run through the evening, and we hope to
have raw images hit the Cassini Web site before dawn, about 5 a.m. Pacific,
Thursday, March 13.  Check here for images:
 http://saturn.jpl.nasa.gov/multimedia/images/raw/index.cfm
Just click on the "latest images" icon…or you might select Enceladus from
the drop-down menu.
Yay!  Does this job rock or what?  Now let the flood of science commence!
Todd