Carolyn Porco
Cassini Imaging Team Leader
So here we are, getting ready to bear down … again … on one of the most remarkable places in the solar system. Only this time, our encounter with Enceladus could be the best of them all for us imaging scientists, who are hoping to peer deep into the fractures at the surface sources of Enceladus' spectacular jets. (see image below and read more about it here.)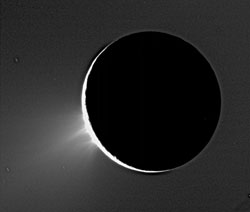 In fact, there have only been a few times during this whole mission when I was more anxious and sleepless with anticipation than I am now:  on approach to Saturn and waiting for the first sighting of landforms on the surface of Titan, anticipating the Saturn Orbit Insertion imaging sequence and wondering what the finest looks we would have of the rings might show us, and waiting for the first close-up high-phase image of the Enceladus jets around Thanksgiving 2005 … the image that has been seared into the minds of all of us.
This upcoming flyby holds that kind of fascination for me, because we have the chance of seeing those very special locales on the tiger stripe fractures that we now know are active, warm eruption vents and because of the daring targeting technique of `skeet shooting' that has been employed to make it happen.  Estimates of the tidal stresses across the south polar region indicate that over the course of an Enceladus' orbit, the vents could open by as much as 1/2 meter (about 2 feet). We won't see such openings even in our highest resolution images, but maybe … just maybe … we might see other evidence of eruption, either something geologically unusual or banks of snow where icy particles in the jets fall back to the ground. Whatever we see, this will definitely be a first and very unusual event. We all are so very privileged to be here, alive, now, and living the dream of so many who came before us   …. to fly, to explore, to learn.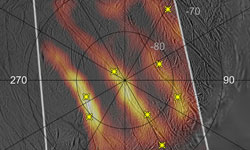 I will say what I said four years ago as we were first entering the Saturn system and about to begin our explorations of this mysterious and far-away place … a time that now seems like a lifetime ago:  Prepare to be amazed!
Image left: Heat radiating from the entire length of 150 kilometer (95 mile)-long fractures is seen in this best-yet heat map of the active south polar region of Saturn's ice moon Enceladus. The stars indicate the location of vents. More about the image