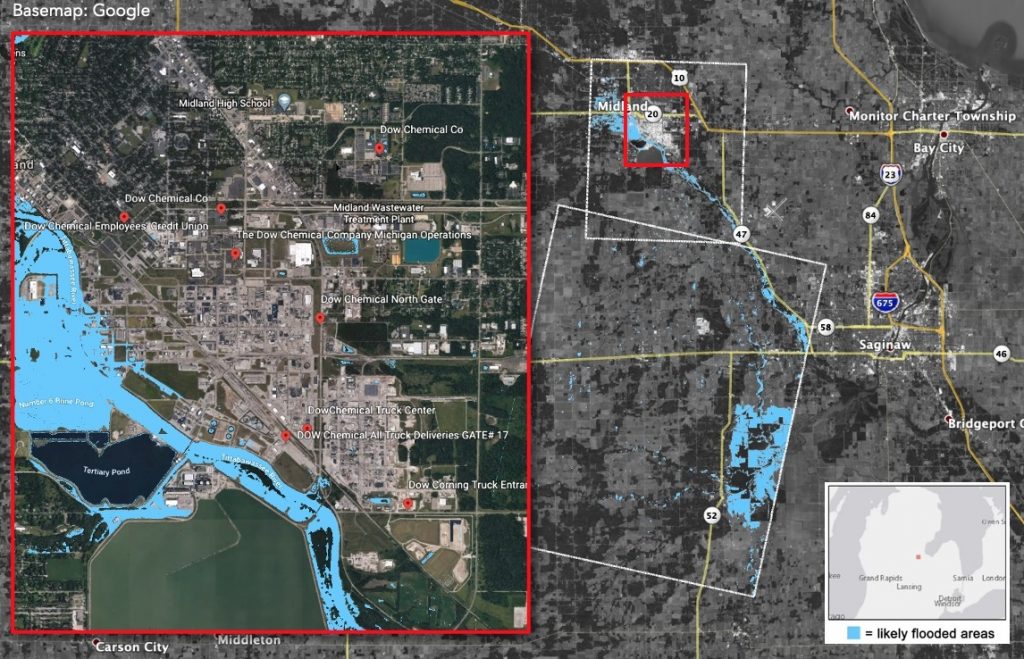 Heavy rainfall starting on May 17 caused significant flooding in Michigan's Midland County. The governor of Michigan declared a state of emergency and ordered more than 10,000 residents to evacuate. The floods resulted in the failure of the Edenville Dam the evening of May 19 and the Sanford Dam several hours later, causing additional flooding around the Tittabawassee River region.
A team with NASA's Earth Science Disasters Program supplied a "flood proxy map" (above) based on satellite observations to the U.S. Air Force and the Swiss Re Group insurance company to aid in their assessments. The map shows the area on May 20 and provides information on flooding and likely areas of additional flooding.
The Disasters Program continues to monitor the situation to determine which additional NASA resources and capabilities may be available to support the risk management of this event.
NASA regularly leverages the power of our views of Earth from space and research aircraft to assist communities around the world as they plan for and recover from severe, often life-threatening, disasters. Data from NASA's robust constellation of satellites and airborne and ground sensors are used to assess, predict and describe disaster impacts to inform the actions of leaders, first responders, and those providing relief.
The Advanced Rapid Imaging and Analysis team at NASA's Jet Propulsion Laboratory in Pasadena, California, collaborated on the map, which was generated by the National Central University of Taiwan. The map includes optical satellite data acquired by Planet Labs, a private Earth-imaging company. – Aries Keck