November's California wildfires, including the Woolsey Fire near Los Angeles and the Camp Fire in Northern California, are now one of the most destructive and deadliest in the state's history. NASA satellites are observing these fires – and the damage they're leaving behind – from space.
The Advanced Rapid Imaging and Analysis (ARIA) team at NASA's Jet Propulsion Laboratory in Pasadena, California, produced new damage maps using synthetic aperture radar images from the Copernicus Sentinel-1 satellites. The first map shows areas likely damaged by the Woolsey Fire as of Sunday, Nov. 11. These maps are provided to various agencies to aid in disaster response. It covers an area of about 50 miles by 25 miles (80 kilometers by 40 kilometers) – framed by the red polygon. The color variation from yellow to red indicates increasing ground surface change, or damage. This ARIA damage proxy map was provided to agencies like FEMA, the California National Guard, California Department of Forestry and Fire Protection, San Jose Water, California Earthquake Clearinghouse and the California Governor's Office of Emergency Services to provide an overall damage assessment in the state.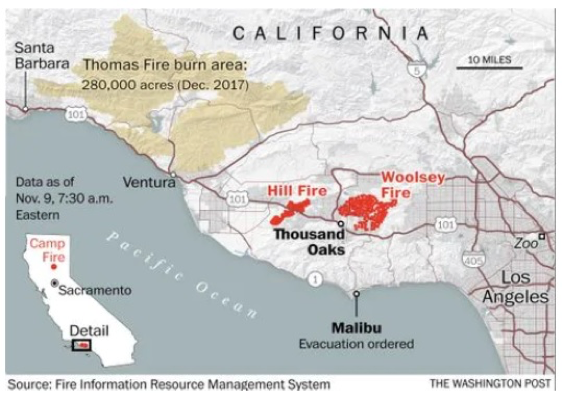 NASA's Fire Information for Resource Management System (FIRMS) distributes near real-time (NRT) active fire data within 3 hours of a satellite overpass from both the Moderate Resolution Imaging Spectroradiometer (MODIS) and the Visible Infrared Imaging Radiometer Suite (VIIRS). Natural resource managers need to know where a fire is quickly to be able to prepare for and respond to a wildfire event. NASA FIRMS NRT helps to visualize the location of a fire in a timely manner for individuals like Natural Resource Managers or others who are directly impacted by wildfires.