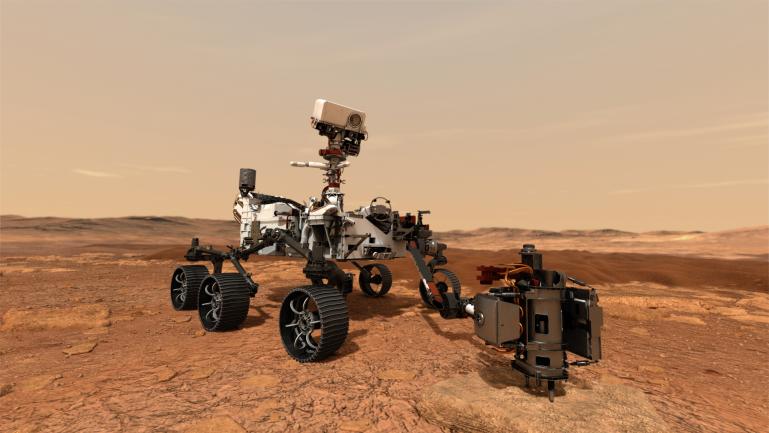 In the coming weeks, NASA will launch Mars Perseverance, a new rover that will seek signs of ancient life and collect rock and soil samples for possible return to Earth. Perseverance, slated to launch between July 30 and August 15, will arrive on the Red Planet on February 18, 2021 at the Jezero Crater. The new Mars Helicopter will also hitch a ride to perform a technology demonstration to test the first powered flight on Mars.
In the NASA STEAM Innovation Lab, researchers are always looking for new ways to explore NASA's latest missions. For example, the Augmented Reality and Visualizing Solar Missions Exploration Idea Profile shows how members of the NASA STEAM Innovation Lab are researching different augmented reality technologies to display and learn about NASA solar missions. But, did you know that with this profile, you can develop with more than just missions that study our Sun?
With this research, you can also visualize different spacecraft missions through the creation of a virtual world, such as displaying a segment of Mars surface and introducing the Mars Perseverance rover's path along the surface. To learn more about this process, visit the Exploration Idea Profile to get started!
Lani Sasser, NASA STEAM Innovation Lab Specialist and creator of this Exploration Idea Profile, says you can also experience AR and Mars with just your smartphone!
"Spacecraft AR, developed by Jet Propulsion Laboratory, is a free app downloadable on any device where you can explore Earth, Mars, planetary, launch, and antenna augmented reality experiences," Lani says. "Have you ever wanted to see a to-scale model of the Curiosity rover in your home? Using this app, you can place a full-scale or smaller version of the Curiosity rover on any surface and examine the different features of the spacecraft and even see how certain instruments move."
If you're interested in trying the app out, follow this link that shows the different JPL apps, including Spacecraft AR: https://www.jpl.nasa.gov/apps/.