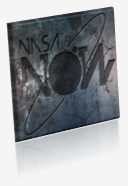 Be sure not to miss the March 6, 2013 episode of NASA Now, introduced by NES educator Erin Warrilow from Dresden Middle School, when three experts who work in very different fields at NASA discuss their jobs, responsibilities and what they enjoy most about their work. They also talk about what inspired them to pursue their careers and offer career advice to students.
Here's a preview of the program.
NASA Now Minute
Link to the NASA Explorer Schools home page.