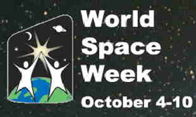 This international event commemorates the beginning of the Space Age with the launch of Sputnik 1 on Oct. 4, 1957. World Space Week is the largest public space event in the world, with celebrations in more than 50 nations. Last year, President Obama joined the celebration by hosting a Star Party at the White House that included invitations to students from NASA Explorer Schools in the Washington, D.C. area.
Join educators and space enthusiasts around the world to celebrate World Space Week, Oct. 4-10, 2010. During World Space Week, teachers are encouraged to use space-themed activities.
To learn more about World Space Week, to find related educational materials and to search for events in your area, visit
http://www.worldspaceweek.org/
.