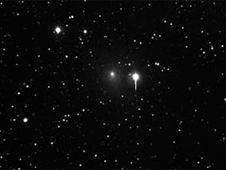 Teachers – Get Ready!
To mark an unprecedented flurry of exploration which is about to begin, NASA announced recently that the coming year will be "The Year of the Solar System" (YSS).
"During YSS, we'll see triple the [usual] number of launches, flybys and orbital insertions," says Jim Green, Director of Planetary Science at NASA headquarters. "There hasn't been anything quite like it in the history of the Space Age. 
History will remember the period Oct. 2010 through Aug. 2012 as a golden age of planetary exploration."
T
the action begins near the end of October 2010 with a visit to Comet Hartley 2. On Oct. 20th, Hartley 2 will have a close encounter with Earth; only 11 million miles away, it will be faintly visible to the naked eye and become a splendid target for backyard telescopes. Amateur astronomers can watch the comet as NASA's Deep Impact/EPOXI spacecraft dives into its vast green atmosphere and plunges toward the icy core. On Nov. 4th EPOXI will fly a mere 435 miles from Hartley's nucleus, mapping the surface and studying outbursts of gas at close-range.
The Year of the Solar System concludes in August 2012 when Curiosity, a roving science lab scheduled to launch in November, lands on Mars. The roving nuclear-powered science lab will take off across the red sands sniffing the air for methane (a possible sign of life) and sampling rocks and soil for organic molecules. Curiosity's advanced sensors and unprecedented mobility are expected to open a new chapter in exploration of the Red Planet.
(Note: The animation shows Comet Hartley 2 moving through the night sky on Oct. 1, 2010 as captured by amateur astronomer Patrick Wiggins of Utah. The animation consists of a series of 13 ten-second exposures of the comet each spaced five minutes apart between 0901 and 1004 UTC. Wiggins, who is also a NASA/JPL Solar System Ambassador, used a 35cm Celestron C-14 operating at f/5.5. Image credit: Patrick Wiggins, NASA/JPL Solar System Ambassador.)
Author: Dr. Tony Phillips