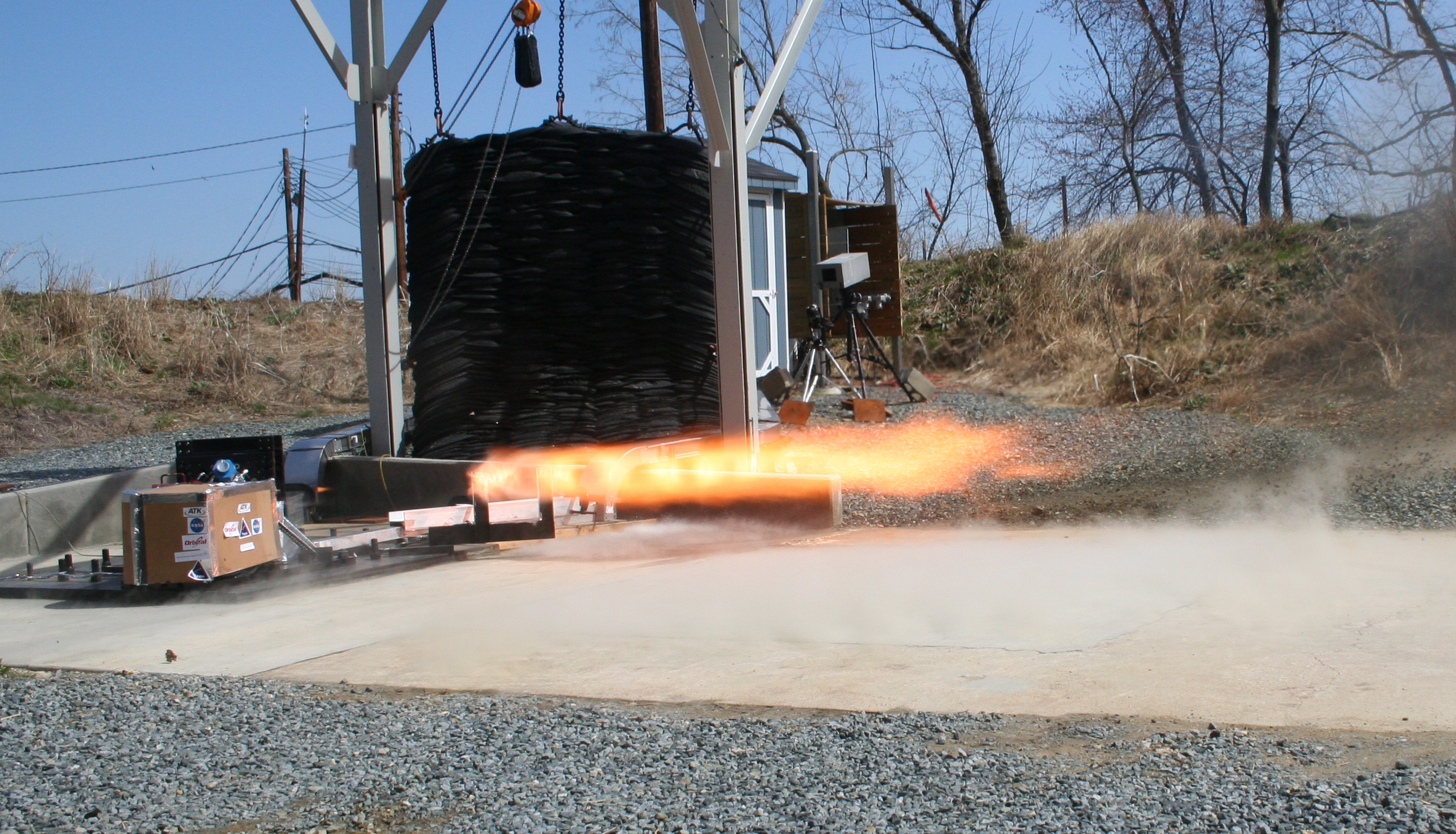 Tuesday NASA and the Orion Industry Team successfully test fired a sub-scale attitude control motor thruster for the launch abort system (LAS) of NASA's Orion crew exploration vehicle.
Conducted at ATK's facility in Elkton, Md., the ground test firing is a milestone in the development of the Orion spacecraft and brings the Constellation Program another step closer to flight-ready status.
The test, referred to as High Thrust-8 (HT-8), was the fifth in a series of ground demonstrations of Orion's attitude control motor system. This ground firing validated that several flight-weight subsystems are performing as designed. The final tests will be of increasing complexity in preparation for the Pad Abort 1 flight test scheduled for later this year, which will test the launch abort system's capabilities using a full-scale crew module mockup.
Orion's attitude control motor will provide steering for the launch abort system. In combination with the abort motor under development by ATK, the attitude control motor is designed to safely lift and steer the Orion crew module away from the launch vehicle, pulling the crew to safety in an emergency on the launch pad or during the initial ascent phase.  
The attitude control motor consists of a solid propellant gas generator, with eight proportional valves/nozzles equally spaced around the circumference of the three-foot diameter motor.  In combination, the valves can exert up to 7,000 pounds of steering force to the vehicle in any direction upon command from the crew module.  The valves are controlled by a redundant power and control system.  This test demonstrated one of the flight-weight valves at full thrust and at maximum stressing load.

ATK is responsible for the attitude control motor through a contract to Orbital Sciences Corporation, who is responsible for delivering the LAS motors for Lockheed Martin, NASA'S prime contractor for Orion. The Orion Project is managed out of NASA's Johnson Space Center. The launch abort system is managed out of NASA's Langley Research Center in partnership with NASA's Marshall Spaceflight Center.  
Image Credit: ATK