Why are the Ares rockets different colors on the top and bottom? Why do some rockets like the Saturn have black and white strips resembling a checkerboard? The answer to these questions may be as simple as determining what type of material a rocket is made of, or you might be surprised to learn that some of these markings assist in the successful launch of a vehicle. 
If you look back to the early prototypes of the V2 rockets designed by the German rocket scientists that were painted in the familiar black-and-white roll pattern scheme. This scheme was designed to aid in tracking the rocket after launch. The pattern made it easy to observe any variation or roll of the rocket, based on what colors were visible from a particular angle on the ground. Today's vehicles can be accompanied by a detailed document called the External Vehicle Markings (EVM) Document. This manual contains everything you might need to know regarding location, size and colorings of various logos and markings on a vehicle. The markings on a rocket may change over its lifetime as the design matures, so these changes are documented in the EVM to ensure consistency. With each new variation in a rocket's design, the pattern is examined and altered as warranted to meet new flight objectives.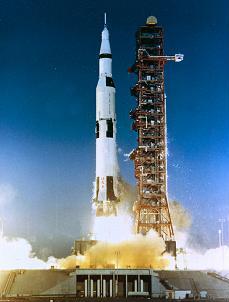 The Saturn V for example had a series of black markings on all three sections, or stages, of the rocket. During launch as each stage separated engineers were able to use the markings on the next stage to track the vehicle. The shuttle was designed to look more like a plane so there was no need for markings to determine its roll. However NASA's first two orbiter test flights–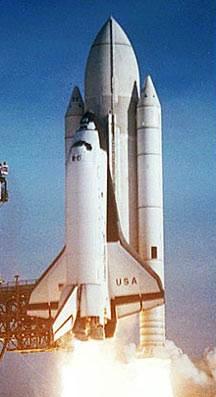 STS-1 and STS-2–did have external tanks that were painted white to protect them from exposure to ultraviolet rays during extended periods on the launch pad. Later it was determined the paint wasn't vital for tank protection, so painting was abandoned to free up weight – about 600 pounds – for additional payload. All external tanks arrive from the assembly facility are a light tan in color, and can eventually reach a chocolate brown depending on how long it sits on the pad in the sun. NASA's newest rockets –the Ares launch vehicles – each have their own distinct appearance. The first test vehicle scheduled to fly later this year– the Ares I-X –will have a black "Z-Mark" that wraps around the first-stage solid rocket motor. This marking was added by designers to help engineers determine the orientation and roll of the vehicle during launch and ascent.
Additional markings could be added to the Ares vehicles as the development process continues. So the next time you see a rocket with its funny black, white or orange colorings remember there is probably more to the story than meets the eye.