This is anexclusive invitation just for participating NASA Explorer Schools high schoolteachers.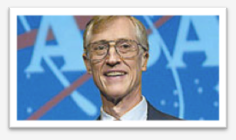 Are your students boggled by the big bang theory? Are they captivated by cosmic background radiation? Are they fascinated by the formation of planets, stars and galaxies? Then May's NES online video chat is their chance to have their questions answered. Dr. John C. Mather, Senior Project Scientist for the James Webb Space Telescope and 2006 Nobel Prize winner in physics for his work on the big bang theory, will be answering student questions during a live video chat.
Thehour-long chat will be on Tuesday, May 17, beginning at 1:30 p.m. EDT.
Teachersare invited to send up to 10 student questions to Mather through either digitalvideo or email. Video questions will be given priority.
Submitting a Question (The deadlinefor submitting questions is May 1):
 Allquestions must include:
The student's FIRST NAME only

Grade/subject

School name

The question
For example, "My name is Sara and I'm a 10th-grade astronomystudent at Johnson High School. My question is…"
Video questions:
Request a blank media release form from

nasa-explorer-schools@mail.nasa.gov

. A completed NES media release form must be submitted for each student featured in a video. Media release forms must be faxed to 216-433-5924 or scanned and sent to 

nasa-explorer-schools@mail.nasa.gov

 with the subject "Media Release for Dr. Mather Chat."

One student question per file and 10 questions per teacher may be submitted.

To improve the chances of your video being selected, review the "Camera Techniques" list at the bottom of this message.

All submitted video files will be destroyed at the conclusion of the video chat. Questions asked during the chat will be part of the video archive, which will be available on the NES Virtual Campus website.
Email questions: Student questions may be sent bythe teacher to nasa-explorer-schools@mail.nasa.gov, with the subject, "Dr.Mather Chat." Teachers may submit up to 10 student questions as text in thebody of a single email and only one email per teacher can be accepted.
Onlyquestions following these guidelines will be considered. Selected questionswill be included in the May 17 chat with Dr. Mather.
Watchthe video chat at on the Virtual Campus.
Camera Techniques for StudentQuestions:
Be sure your camera is set to the highest quality video settings.

Position the camera on a tripod at eye level with the student.

Only the student asking the question should be seen in the video.

Record in a well-lit area, with no bright lights or windows visible in the picture behind the student.

The student should be at least six feet from a wall or background.

The student should be no more than four feet from the camera.

Frame the student from waist up or mid-chest up.

Record in an area free from loud noises or HVAC units.

If possible, for best audio quality, use an external hand-held or lavaliere microphone.

When recording, make sure the student speaks clearly in a full voice and doesn't rush through the question.

Contact

nasa-explorer-schools@mail.nasa.gov

for uploading instructions.
 Link to the NES Virtual Campus home page.