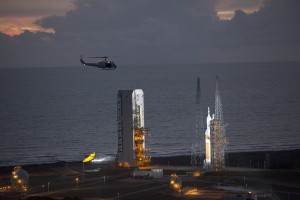 Orion's managers for NASA, Lockheed Martin and the United Launch Alliance said they will push on with planning to launch Orion on its flight test Friday morning at 7:05 a.m. EST. The launch window will be 2 hours, 39 minutes, the same time span as Thursday. "Our plan is to fly tomorrow," said Mark Geyer, Orion program manager.
Fill-and-drain valves on the Delta IV Heavy will be tested throughout the day so the launch team can prevent a mechanical problem like one that came up Thursday. "We're very confident we're going to be able to exonerate the equipment," said Dan Collins, chief operating officer of United Launch Alliance. The valves that failed to close properly late in the countdown allow liquid hydrogen to flow into the three core boosters of the first stage. Normal operation calls for the valves to stay open during the fueling and shut tight a few minutes before liftoff to seal the fuel tank.
Although Orion didn't get off the ground today to begin its first uncrewed flight test, the officials said a great deal was learned about the systems during the countdown as the spacecraft went on internal battery power and saw other changes through the lead-up to launch and then through the three attempts at different points in the launch window. "The spacecraft worked extremely well," said Mike Hawes, Lockheed Martin's program manager for Orion. Lockheed Martin built Orion for NASA and is operating this mission. "The systems did just like the simulators told us they'd do."
The weather for Friday is forecast to be a bit worse than Thursday, though still favorable. Meteorologists are calling for a 60 percent chance of acceptable conditions.