In today's A Lab Aloft, mWater co-founder John Feighery recalls how his background as an environmental engineer in the International Space Station Program at NASA's Johnson Space Center in Houston led to a novel approach to global clean water monitoring.
My wife Annie and I share a passion for humanitarian concerns, though our individual approaches may appear at first to be quite different. My career began in environmental engineering with aerospace projects for NASA, while she worked as a behavioral health scientist in East Africa. Through our mutual work, we began to see crossover potential where Earth needs could find answers from space applications. Specifically in regard to the precious resource of clean water for people living in low-resource regions or remote environments, NASA technologies developed for the extreme environment of space could help those impacted by contaminated water sources.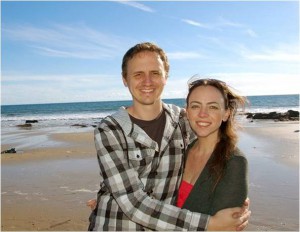 We came up with the idea to provide an open source water and sanitation technology that would be mobile, accessible and inexpensive. Combining our desire to help improve the lives of others, we brought this dream into reality by founding mWater, an organization that uses low-cost kits for water testing in tandem with the mWater mobile phone app that can read the water tests.
The app communicates water source locations and their safety status on a map that water users can use to find safe water around them. Water source managers also can use the app to identify the biggest health risks in their community. Our co-founder, software engineer Clayton Grassick, designed the app in 2011, after we pitched him the challenge during the Random Hacks of Kindness Hackathon in Montreal Canada. We launched a beta version in August 2012, piloting the water test and app technology in Mwanza, Tanzania with funding from UN Habitat. With an investment grant from USAID Development Innovation Ventures, we began in June to train Mwanza's water managers and environmental health workers to test water sources and monitor them with the mobile phone app.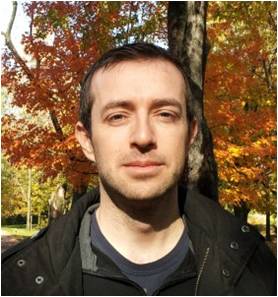 The origin of this global resource has its roots in the work I did for the people leaving our planet—astronauts bound for the International Space Station. My efforts as the lead engineer for air and water equipment on the space station focused on requirements for efficient and highly portable testing capabilities that did not require incubators or other laboratory equipment to check for contamination in drinking water sources. The technology that mWater uses for testing for the presence of E. coli in 100 ml samples was inspired by the Microbial Water Analysis Kit (MWAK) that I helped develop to provide NASA with a simple water quality test. MWAK is part of the CHeCS EHS suite of hardware for environmental monitoring aboard the space station.
The solutions I helped deliver to the station crew also applied to the needs I saw in my volunteer efforts on Earth. During a stint with the NASA Johnson Space Center chapter of Engineers Without Borders in El Salvador I was struck by the lack of clean water and the vision came together for me. I realized that I could help not only the crews bound for orbit, but also the billions of people here on Earth with the basic human need for a clean water supply.
The key innovation that came from my time at NASA was proving through the MWAK project that these types of tests can work at near ambient temperatures. This was essential for testing in the field, especially in developing countries, as incubators are expensive and require electricity. The mWater tests, however, can be done easily by anyone at room temperature.
Part of the problem with water testing up to this point was the expense of microbiology labs and the need to make the data accessible to the public quickly and efficiently. In essence, mWater works by combining an online global map of water sources reflecting inputs from an open, scalable and secure cloud-based database; inexpensive (only $5 per kit) and accurate water testing kits; and the cross-platform mobile phone app that reports test results and records water sources.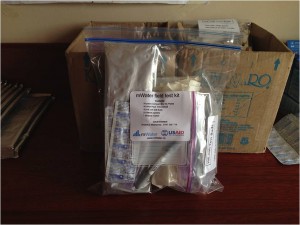 The app itself works with the phone's camera and GPS to record the location of the sample and the results from the test kits, uploading the information to the free, mapped database. The water source gets its own unique numeric identifier, which governments, health workers, and citizens can use to check the health of their local supplies. The app, available for free on the Google Play Store, can function offline and is also compatible with iPhone, Windows, Android and Blackberry phones through their Web browsers.
We verified the app in real-time via a UN Habitat study that took place in Mwanza, Tanzania. The success of this validation testing allowed us to move forward to implement our tool for users around the world. What's even better is that as people continue to use this resource, they share the water results in an open source forum online. We are building an open source/open access global water quality database that anyone can put into operation to better understand water safety across geography and time.
The ease of the app is another carryover from my days at NASA, mimicking the lessons learned from writing training plans for the crew of the space station to learn to use such a tool. We focused on simplicity and ease of use to reduce human error in the user interface. More than 1,000 Android users on the Google Play Store have downloaded the app during the beta release phase. Now, less than two years later, mWater has grown to fully implementing water quality monitoring and mobile surveys with the investment grant from USAID.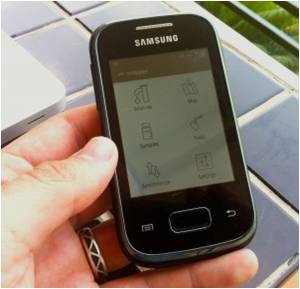 Scientists and concerned citizen groups from around the world are downloading the app because the technology reduces the cost of conducting large water studies. We have also collaborated with Riverkeeper, a non-profit organization in New York City, to monitor water here at home in the Hudson River Valley.
We have used this simple and affordable tool to test water in Tanzania, Rwanda, Kenya, and we are expanding to Ethiopia later this year. These countries represent areas where people have access to the fewest safe water sources in the world. Diarrheal disease is the second leading cause of child mortality worldwide, behind lung infections. Drinking unsafe water also leads to malnutrition and stunting and lost wages for those who are ill and those who care for them.
In our research, most families choose between three water sources on average for their water each day. mWater's app can help them make the safest choice available and inform them when they need to expend their precious resources on fuel to boil unsafe water. We can generate reports of water source status for communities that need assistance lobbying for government funding. Most importantly, in our view, we create a sustainable capacity for affordably monitoring water that can exist after we leave each community.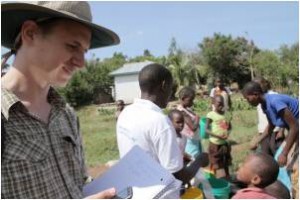 John Feighery is a social entrepreneur working to bring low-cost water monitoring to under-resourced communities, using mobile phone and mapping technology to share the results and respond rapidly to contamination. He will graduate this year with a doctorate in Earth and environmental engineering from Columbia University, where he measured and modeled microbial contamination of groundwater and drinking water in Bangladesh. Before returning to Columbia for his Ph.D., Feighery worked for NASA as manager of the Environmental Health System for the International Space Station and also helped develop advanced life support technology.