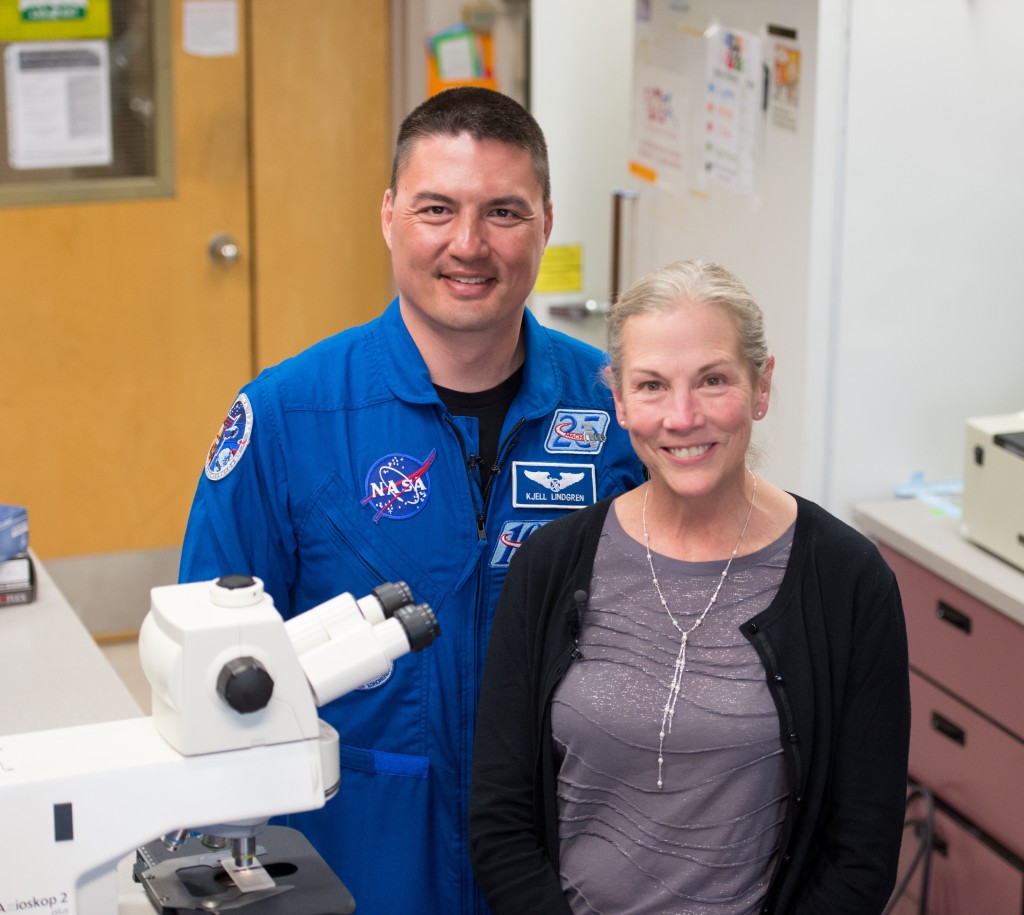 Last week had some really exciting research "firsts" on the International Space Station as we continue to provide state-of-the art laboratory equipment and techniques for research in orbit. On May 3, astronauts successfully completed a functional assessment of grip strength in mice on the orbiting laboratory. This was the first time a grip strength meter has been used for rodent research on orbit, and the data gathered will be used to assess the efficacy of the anti-myostatin treatments in preventing muscle loss in space. Crew members also took measurements of bone densitometry on mice for only the second time in space. To date, whether studying the astronaut crew or mice, we have only been able to do bone scans before and after flight. We are now able to look at loss of bone during the course of the mission. The mice were sedated so that they could undergo bone densitometry scanning. Following the scanning, the mice were given another dose of either anti-myostatin or control antibody. The work is being done as part of the Rodent Research-3 experiment conducted by Eli Lilly to understand the relationship between muscle atrophy and bone loss. Eli Lilly joins other pharmaceutical companies, including Merck and Amgen, in using the space station as a source of research innovation.
The orbiting laboratory also made progress in molecular biology capabilities with the operation of a qPCR machine to take sample in orbit, extract RNA, and set up reactions that record gene expressions in real time. Called Wetlab-2, the validation test sessions were completed on May 2 using samples of (benign) E. coli and mouse liver tissue, resulting in science-quality data. The WetLab-2 qPCR facility is now available for scientists who need this capability in life science and biomedical research on the space station.
If you are struggling with terms like "omics" and "gene expression," NASA has released a set of videos to help explain why this area of research is such an important part of the Twins Study. The series explains in friendly terms about omics, its significance in the Twins Study on the space station, and the advantages of personalized medicine for astronauts and humans on Earth. The video's release was in honor of National DNA Day and a HREC Reddit Ask Me Anything (AMA) online event on April 25, 2016. Twins Study principal investigators and astronaut Kjell Lindgren served as subject matter experts for the event and responded to online questions from the public. The event garnered 3,884 karma points and 672 comments. The series explores space through you by using omics to look more closely at individual health. The series is divided into sub-disciplines:
• Video 1 – Omics introduction
• Video 2 – Genomics
• Video 3 – Transcriptomics
• Video 4 – Proteomics
• Video 5 – Epigenomics
• Video 6 – Metabolomics
• Video 7 – Microbiomics
• Video 8 – Omics overview/conclusion
Plans are to release videos 6 and 7 when astronaut Kate Rubins sequences DNA in space for the first time later this summer. The final video will be released in conjunction with National Twins Day in August. Read more about the Twins Study online.
Joe Neigut
ISS Assistant Program Scientist