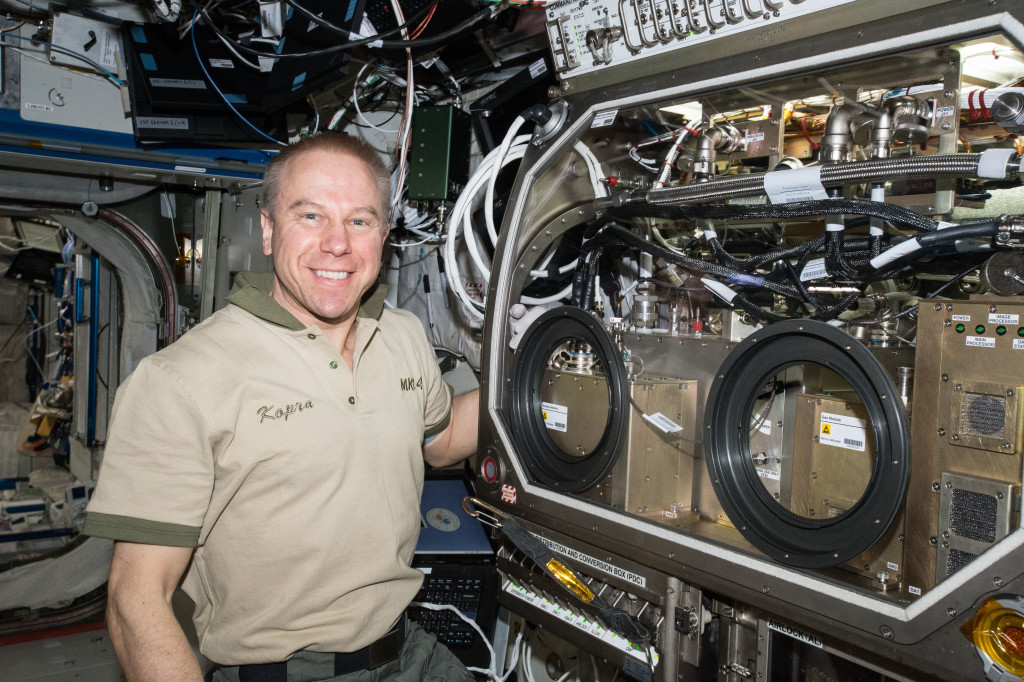 The Packed Bed Reactor Experiment (PBRE) was installed in the Microgravity Science Glovebox (MSG) this week, and is the largest, most complex experiment installed in the MSG to date. When the gas-control module did not power up properly, NASA astronaut Tim Kopra helped to quickly identify the problem, which involved a foam piece imbedded in a connector. Kopra also helped trouble-shoot a video camera for the gas-liquid separator. After two days of setup, all systems in the PBRE are now operating as expected.
During subsequent testing, PBRE found that the gas flow provided by the MSG was not as high as desired. The team is still evaluating if the test matrix will need to be modified. Initial testing this week includes some preliminary flows to flood the column with water and then introduce low gas flows to observe viscous fingering within the porous media (similar to water injected into oil wells to enhance flows).
https://www.youtube.com/watch?v=https://www.youtube.com/watch?v=NFEC8OZWDCY[/embedyt]
Next week, PBRE will begin a series of tests to determine minimum flows to remove bubbles from the reactor bed. This is a serious concern encountered by most reactor beds in microgravity, since gravity is not available to drive the bubbles to the top of the reactor. Our results will provide guidelines to design and operating beds to prevent bubble accumulation.
In space, water-recovery systems, fuel cells and other equipment use packed bed reactors, but currently none are designed to handle both liquid and gas at the same time. With improved understanding of how packed bed two-phase flow works in microgravity, scientists are be able to design more efficient, lightweight thermal management and life support systems that use less energy, benefiting the Space Station as well as future lunar and Mars missions.
On Earth, design rules for gas-liquid flows through packed columns are well developed, but lacking for reduced or zero gravity. PBRE seeks to fill this knowledge gap by studying the hydrodynamics of gas-liquid flows in zero gravity through packed columns. By understanding how gravity affects gas-liquid flows through packed columns (or packed beds, as they are known in the industry) better, more predictive correlations for pressure drops and flow regime maps can be developed with the proper gravity-dependent terms included.