Idea contributed by Carrie Lamb, NES teacher at Benjamin Stoddert Middle 
School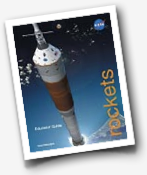 Carrie's, four inclusion classes must complete a class science fair project. This allows her to guide the students through the scientific method. This year their science fair project dealt with rockets, with the NASA Rockets Guide on the NES Virtual Campus as a resource. Students 
watched NASA videos as part of their research and then conducted an 
investigation to see how the amount of thrust affects the distance a 
rocket travels.
Students were engaged in meaningful application of science concepts, and the relationship between mathematics and science was stressed. Carrie's 
students also participated in a NASA Digital Learning Network, or DLN, 
activity on Lunar Impact Craters, which provided additional instruction on the scientific method.
Read Carrie's post in the NES forum, ~Other NASA-Related Activities I've Done, in NEON for details and additional 
information.