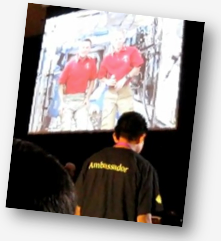 As a result of student interest generated by a recent NASA downlink at Johnston Middle School, NASA Explorer Schools educator Lanena Berry reports the school has instituted a Space Explorer's Club. So far this year, club members have researched the SPHERES satellites on the International Space Station. Students have been introduced to NASA's website and participated in the NES module, Engineering Design Challenge: Spacecraft Structures (must be logged into the NES Virtual Campus website).
Space Explorer's Club members now are working with students from Prairie View A&M University to send a weather balloon up 60,000 to 100,000 feet above Earth's surface to take pictures and atmospheric readings.
The focus of this club is on the research and technology needed to explore space.
Read more about Johnston's Space Explorer's Club and link to a video about the downlink at the school in the Other NASA Activities I've Done forum in NEON (requires username and password).