In the Water Vapor Satellite Imagery lessons, your meteorology students learn how to identify and analyze jet streams using water vapor imagery from weather satellites. There is a jet stream tutorial if you need a better understanding of "jet stream." Then your students can complete each of the learning scenarios in the order listed below.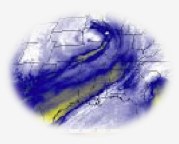 The Meteorologist's Challenge: A TV meteorologist challenges you to locate the jet stream axis using water vapor imagery.

A Crisis in the Air: An airline pilot needs your help in analyzing data from water vapor imagery and weather models to plot a new flight path to take advantage of a jet stream.

Launching and Tracking a Weather Balloon: A team of weather researchers needs you to decide whether or not to launch a weather balloon by analyzing water vapor imagery and other weather data.
Read more about these activities in
NEON
. Register, log in, and join the NASA Explorer Schools group and Satellite Meteorology forum. The complete write-up on the lessons is available in that forum.