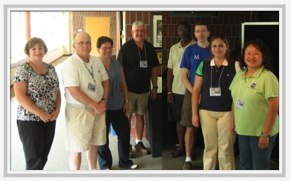 During the week of July 18, 2011, eight NASA Explorer Schools educators from across the country attended the Solar System Inside and Out research experience at the Space Telescope Science Institute in Baltimore, Md.
The opportunity included hands-on activities and incredible presentations, including a look at extreme weather on other planets presented by Dr. Frank Summers. Educators received curriculum support materials related to the activities. The educators are eager to share what they learned with their students. One teacher that attended, Christine Adomeit, commented, "What a wonderful way to incorporate real-world science into lesson plans. I can't wait to show my students what they can do with logarithmic graphs!"
Although these educators thoroughly enjoyed this experience, their students are the real winners because of the engaging NASA lessons being brought back to their classrooms.
Link to the NES Virtual Campus participant's home page.