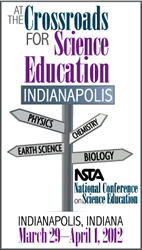 Make NASA a part of your National Science Teachers Association, or NSTA, experience this year! The 2012 NSTA's national conference is being held March 29 – April 1, 2012, in Indianapolis, Ind. Dozens of NASA presentations, workshops and short courses are scheduled during the conference. To find NASA sessions that fit into your schedule, visit http://bit.ly/nsta2012.
Also, stop by the NASA exhibit booth (#2159) to learn about exciting new NASA programs and products. NASA Explorer Schools, or NES, representatives will be there to share information and answer your questions.
If you are not yet a participant in the NES project, you can obtain detailed information about NES by visiting the NASA exhibit booth or attending a NES presentation. The session, "Teach STEM? NASA Explorer Schools Can Help!", takes place on Fri., March 30, from 11 a.m. – noon in the Cabinet Room of the Westin Indianapolis.
Everyone is invited to attend any of the additional NES lesson-related sessions:
   • Virtual Lab and NASA Explorer Schools on Friday, March 30 from 4 – 4 45 p.m. in room 142 of the Convention Center.
   • The "NASA Engineering Design Challenge: Spacecraft Structures" session takes place on Sat., March 31, from 9:30 – 10:30 a.m., in room 111/112 of the Convention Center.
Attend these presentations and see how NES helps teachers by packaging everything needed to deliver an exciting NASA-related lesson to students!