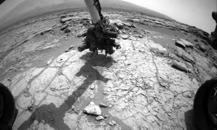 NASA's Mars rover Curiosity has placed its drill onto a series of four locations on a Martian rock and pressed down on it with the rover's arm, in preparation for using the drill in coming days.
The rover carried out this "pre-load" testing on Mars on Jan. 27. The tests enable engineers to check whether the amount of force applied to the hardware matches predictions for what would result from the commanded motions.
The next step is an overnight pre-load test, to gain assurance that the large temperature change from day to night at the rover's location does not add excessive stress on the arm while it is pressing on the drill. At Curiosity's work site in Gale Crater, air temperatures plunge from about 0 degrees Celsius in the afternoon to -65 degrees Celsius overnight. Over this temperature swing, the rover's arm, chassis and mobility system grow and shrink by about 2.4 millimeters, a little more than the thickness of a U.S. quarter coin.
To read more about the upcoming drilling, visit the Curiosity Mission News.
To learn about the engineering and challenges involved in getting Curiosity to Mars, check out four special Mars Month episodes of NASA Now on the NASA Explorer Schools Virtual Campus.