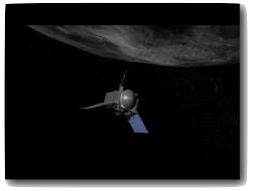 NASA's first mission to sample an asteroid is moving ahead into development and testing in preparation for its launch in 2016.
The Origins-Spectral Interpretation Resource Identification Security Regolith Explorer, or OSIRIS-REx, passed a confirmation review Wednesday called Key Decision Point. NASA officials reviewed a series of detailed project assessments and authorized the spacecraft's continuation into the development phase.OSIRIS-REx will rendezvous with the asteroid Bennu in 2018 and return a sample of it to Earth in 2023.
This is a great extension to NASA Now: Primitive Asteroids: OSIRIS-REx. NASA Now is an Emmy Award winning educational series provided by NASA Explorer Schools. To access this program, visit the NASA Explorer Schools Virtual Campus.
To read more and watch a video overview of the OSIRIS-REx mission, visit https://www.nasa.gov/mission_pages/osiris-rex/osiris-rex-development.html.