Originally Published: Jan. 21, 2017
I spent the weekend home in Ann Arbor, with my family. I made that decision after receiving a message from the people running my apartment-house in DC telling me to stay away from windows and off balconies during the Inauguration related events.
In fact, I was glad to spend time in Ann Arbor and I even had time to visit some friends and former colleagues at the University of Michigan and do an interview for Gary Krenz's Bicentennial activities. The interview made me think because of a question he asked that was very hard to answer. It was a question about "my home" and how I feel about it.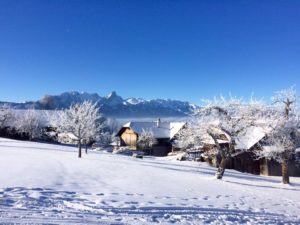 See, as an immigrant, the concept of "home" is a lot tougher to define than for others. Consider my brother, who sent me the picture attached to this post. He grew up in the same house he now lives with his beautiful family. Looking at this picture from this weekend – who would not agree that he has a beautiful and amazing home. You ask him where his home is, it takes him 2 seconds to give you the answer.
For me, it is a lot longer answer. I grew up there as well, and I have a lot of positive feelings about the town of Heiligenschwendi. But, I love Bern as well, where I lived over 10 years. I got my education there, tons of great memories, and lots of friends – I grew up there. I even lived the better part of one year in Bern with my US family. If I organize a trip to Switzerland, I first think about where to stay in Bern, my former home.
And then, I moved to Ann Arbor, the place I built my career, made friends, and – most importantly – the place where I met my wife, where my two children were born. I also found the most supportive environment any young researcher could hope for, an environment that enabled what I do now. I lived in four places in Ann Arbor and was an owner of two houses at different moments in time.
Right now, we are getting ready to sell our house where my family lived in for 13+ years, and we are thinking about which town we want to make our home in the future.
I will always think of Ann Arbor as my home, as a place close to my heart for which I feel a sense of belonging. I feel the very same way about Bern and Heiligenschwendi, and – if I am lucky – I will find another place or two that I associate with my life, my love, my family and friends and also with opportunity to have impact. But, the point is that I have more than one home and – because of that – I think about this more than the 70%+ of people who live within 5 miles to where they grew up.
So, what is my home? I am lucky to have had more than one during my lifetime! But, my home is where my family and my friends are!