As part of my studies in Astronomy at the University of Bern circa 1990, I had to learn how to measure very accurately positions and angles of stars in the sky. During a practicum class, we could apply the content within the classroom, and one of these experiments was to measure accurately, during the night, the angle between a telescope on the roof on the astronomy institute and a point near a local hotel called Kursaal.
I was reminded of that today when I stood on the roof of that hotel and looked in the direction of the university. I marked the points of university and hotel with red arrows.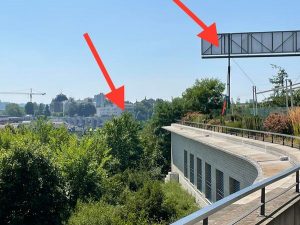 There are two reasons this was meaningful to me today.
First and foremost, I just completed one of the most important goals of my career thus far, working as the NASA leader of the international team to make the biggest space-based astronomical telescope (JWST) ready for science. Obviously, I would have never guessed that my education would open doors for this kind of mega-goal. How do you make amazingly big leaps in your life and become part of history making changes? How do you prepare to help release pictures of the universe in ways we have never seen it?
The answer, for me, is that big leaps have a lot to do with deliberate and even cumbersome small steps. These may be specific lessons learned on a roof at night, or at night staring at a monitor on a dark desk, alone as others gave up earlier. But, that is not all: the rest is support from others and good luck – in real life we never control all variables, like a well-posed problem in school. That is why, most importantly, we never succeed with big successes by ourselves!
Secondly, I have been thinking a lot about managing life and time. I am in that hotel on vacation for a few days. Instead of having the planned 10 days off, I will only have 6, including weekends, as my free time has been eroding away due to other urgencies like Mars Sample Return, Psyche, budget discussions for 2024, and others. Why have I not learned how to take time off during the past 30 years? I may be worse at that than that young student on the roof in 1990.
The truth is that I have always been very dedicated to my work – from the time as a student to today. But, there are times I realize I still have to learn that dedication is not the same as always saying "yes".
There are times I feel I have a lot of agency and I feel I am at or near my potential as a leader. Some of my best and most impactful decisions tend to come during these times. However, since early this year, I have been way more reactive as a leader than I want to be. I needed to travel to address a number of urgent issues and I keep falling behind.
Of course, I know deep within me that reactive leaders are not excellent leaders, so I need to "get on the horse and ride", rather than "being pulled behind the horse, powerless". But equally importantly, great leaders are also balanced leaders and manage to spend time for themselves, their family and friends.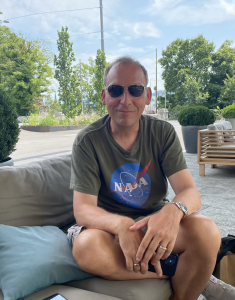 So, looking across the river and remembering my formative university lessons, I am committing to myself to prioritize learning yet again. Learning about me, other people – especially those I love, about broadening my horizon, and about other things.
Yes, it is instructive to look at your younger self looking at you from across the river.