As the COVID-19 pandemic began to rage last year, I thought about how NASA could marshal its resources to help benefit people worldwide. We know that Earth observations provide us with a satellite view of our home planet and offer a unique perspective on any number of macro changes happening here on Earth. So together with the European Space Agency (ESA) and the Japan Aerospace Exploration Agency (JAXA), we combined resources to strengthen our understanding of the effects of the global pandemic. As a result, we unveiled the Earth Observing Dashboard in June 2020. I am really proud of this effort because the dashboard offers the public access to an array of COVID-related Earth observation data captured by the three space agencies. It allows anyone to see, from a satellite-view, the effects that COVID-19 is having on our economies, our environment, shipping patterns and more around the globe.
June 2021 marks the one-year anniversary of the dashboard's creation. We thought a great way to commemorate the occasion would be to host a global hackathon and invite participants to tackle challenges related to the intriguing data contained in the dashboard. If you've ever been curious about how people's shopping behaviors changed during COVID, or how the lockdown orders affected carbon dioxide levels or water quality, check out the dashboard. If you're interested in solving challenges using this data or helping to improve the dashboard itself, we would welcome your participation in the Earth Observation Dashboard Hackathon from June 23-29, 2021.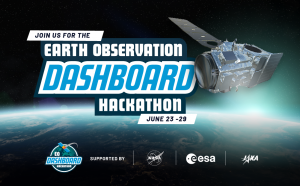 To give you some examples, the dashboard includes a nighttime lights indicator derived from the Suomi-NPP Visible Infrared Imaging Radiometer Suite (VIIRS), which shows how the pandemic lockdown measures affected businesses, highways, and nightlife by revealing changes in light activity at night by tracking changes in energy use, migration and transportation activity patterns.
Second, when the pandemic impacted the ability of governments to perform in-person field surveys to monitor the progress of food crops, Earth observation-based data used for the Global Agricultural Monitoring Initiative (GEOGLAM) Global Crop Monitor provided evidence and reassurance that the food supply was adequate from afar.
Also, some parts of the world are currently experiencing lockdowns due to the second wave of COVID-19. The dashboard shows human activity slowdown (SAR Proxy maps) and a similar environmental response (NO2) to the second lockdown as the first one. Data collected and carefully curated for these waves of COVID-19 periods could provide further insights into environmental responses and economic impacts.
As countries continue to battle COVID-19, I am proud that the dashboard can be a tool that enables people and governments to better understand how the pandemic is affecting our world. I hope that seeing the impacts of COVID from such a vantage point can help spur innovation and spark new ideas. I hope you will join us for the hackathon!