I visited Europe this past week, from France, to Switzerland and then Spain. It was my first international trip across the Atlantic since the beginning of COVID, the longest time I have ever been away from Europe and Switzerland since I left in 1996 to build a new life on the other side of the Atlantic.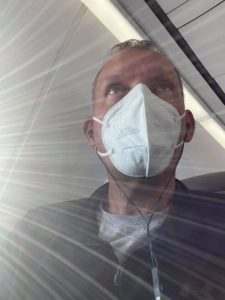 I really missed traveling. No, I do not particularly like sleeping on planes – I am too tall for the seats they build. Sitting there with a mask makes it less comfortable still. And I feel like a small part of my brain was pulled out on numerous swabs used for COVID tests. But it remains important to travel safely and I will do what it takes to protect me and others.
I still admire those flying machines that lift us above the clouds into the sky, and toward distant shores. I recall how long a boat trip would have taken in ancient times for the same trip. And, I think of the interplay of the incredible technologies associated with the first A in NASA – aeronautics.
There are few technologies and industries that bring people together more, and create understanding or even friendships where they seemed elusive at first. "Travel is fatal to prejudice, bigotry, and narrow-mindedness", said Mark Twain, and that still holds true today.
There were many highlights on this trip – here are just a few.
I enjoyed visiting my friend and colleague, European Space Agency Science Director, Günther Hasinger. This was my first trip to Madrid and I loved it. We spent a day and aligned our programs in ways many phone and Zoom calls cannot. I will never forget our dinner together with wine, cheese and Spanish charcuterie under the Spanish night sky.
I gave a talk at the Swiss Economic Forum aligned with thier conference theme "New Horizons". It allowed me to spread what we do at NASA to a broad audience. This mission is still the stuff of dreams. One cannot give a talk about new horizons, without talking about Pluto.
My talk was focused on the new horizons we have when exploring the universe – moving the boundary of ignorance back as fast as we know how. And it is about the important of new horizons and unprecedented and urgent collaborations as we focus on our own planet, the Earth, the most beautiful planet we have ever known. The talk was given in (somewhat broken) German. Check it out at this link.
This long awaited trip reminded me of the international and worldwide character NASA Science really does have. Whether it is visiting the company, Maxon, that built electric motors for the Ingenuity helicopter and that enable Perseverance's sample acquisition, or the international partners in France who helped build the seismology instrument on Mars now, the best science is done when we do it together, with transparency and trust. I am proud of NASA for its aspirational goal to be the favorite and most reliable collaborator to countries around the globe seeking to explore space. For us at NASA, leadership and partnership is and remains linked, as we have a critical role in efforts of US diplomacy worldwide. We have trusted friends in so many countries, friends we look forward to seeing in person as soon as it is feasible and safe!