Celebrating the Global Space Apps Community and Reflections
NASA's 10th annual Space Apps Challenge was held in Oct. 2021 and it was the most successful such event to date. Not only was it the largest all-virtual Space Apps event, it also broke its own records for the number of local virtual events, participants, and project submissions.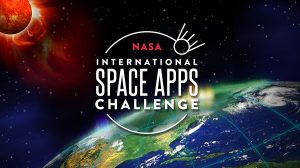 Since its inception in 2012, Space Apps has engaged over 178,000 people from across 162 countries and territories. But Space Apps is so much more than just the numbers.
In a recent blog post, I reflected on my time here at NASA, including the lessons I've learned. Two of those lessons were related to understanding how to enable true diversity and inclusion and recognizing and combating "group-think," where individual voices are not heard. The Space Apps Challenge is an opportunity for us to participate in creating an environment that welcomes diversity, promotes inclusion, and proactively fosters disparate thought. This challenge helps remove walls by enabling participants across the world to form teams and work together to find solutions to some of Earth's most pressing problems.
Our goal is for the next generation of explorers to not only learn about NASA's data, but to share in the process of using that knowledge – to create and apply that data to solutions to real-world concerns. The continuous uptick in global participation in this challenge exemplifies our commitment to creating opportunities that are accessible and equitable to all.
Here are a few tangible ways Space Apps has impacted communities globally:
Open Innovation
Space Apps is a virtual launch pad for ideas to take shape in specific locations around the world. Local Leads – the volunteers who host Space Apps events in their local communities – sometimes use Space Apps as a platform to launch accelerators, enrich educational curriculum, and create businesses.
Space Apps serves as the inflection point for innovators worldwide to create, innovate, and develop ideas using open data and resources from NASA and our space agency partners. Open innovation concepts have allowed some participants to translate ideas generated during a challenge into physical products and companies. A Local Lead in Guatemala has been working with the Space Apps community to cultivate interest in space-related opportunities. The vision is to support projects beyond the Space Apps challenge weekend to develop the initial project ideas into meaningful solutions.
This open innovation only happens because our data is openly accessible. As we move from Open Data to an Open Science paradigm, the toolset for open innovation will dramatically increase and we will empower more teams to have positive impacts on their own communities, no matter where they are worldwide.
Skill Building
The Space Apps challenge is also like an on-the-job training environment, as it provides opportunities for participants to hone and learn new skills. The challenge environment not only encourages learning, but helps participants adopt a growth mindset. Whether it be through exploring scientific subject matter, defining team roles, learning a new skill, or addressing obstacles that may arise during the challenge, the Space Apps experience promotes a culture of collaboration, innovation, and teamwork – key skill sets in today's modern workforce and classrooms. We've received reports that some people have even integrated Space Apps into their science, technology, engineering, art, and math (STEAM) curriculums.
Diversity & Inclusion
The Space Apps motto, there's always space for one more, underpins this endeavor's intentional effort to be inclusive. We know that at the heart of true innovation, there tends to be a diverse team whose members are fully included into the decision and implementation process. This is why the virtual bootcamp included a YouTube video playlist dedicated to enhancing diversity, equity, and inclusion and featured videos such as "Building a Diverse Team is the 'Secret Sauce' to Success." The playlist was devoted solely to highlighting the link between innovation and diversity and provided advice to participants on how to create and work in teams with different skills sets and backgrounds. In 2021 alone, nearly 30,000 people from around the world participated in the challenge and as the program grows it continues to attract participants that range in experience from students to seasoned professionals, from aspiring engineers to seasoned, award-winning technologists, and from citizen scientists to globally-recognized subject matter experts.
As part of our effort to ensure that the Space Apps community reflects the diversity that exists globally – including race and ethnicity, gender, age, socio-economic status, and natural talents, skillsets, and interests – the challenges presented by Space Apps cover a wide variety of interests and levels of experience.A great example of this purposeful intentionality took place in Bangladesh. To ensure that women were not excluded, the Local Lead in Bangladesh required that all local teams include at least one woman. As a result, 90% of all teams in Bangladesh had at least one woman participating.
The challenges themselves were crafted in a way to attract teams that represent a variety of skill sets, ranging from media, art, storytelling, computer science, engineering, and a host of other fields. This intentionality encourages diverse individuals to come together around a shared passion for creative problem solving.
The Future of Space Apps
What started as an exploratory effort in 2012 is now a thriving global community built over the course of 10 years. The sustained growth of Space Apps during this time illustrates that this challenge has and will continue to contribute to the advancement of science and will empower the next generation of space professionals. I am committed to working to continuously broaden and improve this annual event to provide a richer, more accessible, and impactful experience for years to come. Looking ahead, I hope that Space Apps serves as a model for how we as a world approach problem solving.
And finally, I want to thank one more time all leaders within NASA and our partner agencies, the local Leads, and – in particular – all Space Apps participants worldwide. I absolutely love this program and I cannot wait for future implementations of this amazing innovation and engagement tool.
Connect with the #SpaceApps community!
Instagram: @nasa_spaceapps Twitter: @SpaceApps Facebook: @spaceappschallenge