International Space Station astronaut Suni Williams recently addressed a symposium at the AAAS (American Association for the Advancement of Science) annual meeting regarding research in extreme environments. In this entry for A Lab Aloft, she shares her perspective on extreme research on the International Space Station.
The upcoming decade of utilization is an exciting time for the International Space Station. As an astronaut, I had the opportunity to help build the station, to live and work on it, and I hope to go back someday. I think many people are unaware of the different aspects of this incredible laboratory: the various control centers; the communications that are involved just to prepare, make, and operate the station; as well as the different countries involved. Just providing operations for the station requires a tremendous amount of communication and control. And for the last 10 years, the station has also been furthering science.
There are fascinating opportunities for scientists with the space station going forward. An awareness of this can spur on ideas of ways to do investigations in space. Just looking at the science that has already been done during the last decade of assembly is inspirational. Think about it; when building projects are being erected, they do not usually operate at the same time. Take a hospital, for instance—it does not take patients while under construction. When you sit back and look at how much research was done while the station was under construction, it is pretty amazing.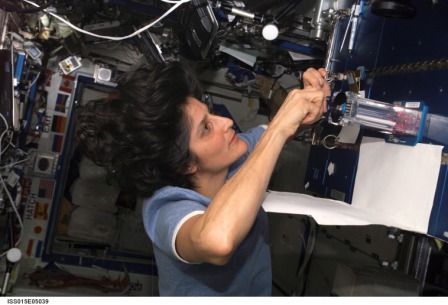 Astronaut Sunita L. Williams, Expedition 15 flight engineer, performs one of
multiple tests of the Capillary Flow Experiment (CFE) investigation in the
Destiny laboratory of the International Space Station. CFE observes the flow
of fluid, in particular capillary phenomena, in microgravity.
(NASA Image ISS015E05039)
Compared to other laboratories, being in such a harsh environment adds some unique challenges. It also requires a lot to take care of it. When a toilet brakes, when the oxygen generation system does not work, when a solar array does not supply power, the crew are the only six people who can and have to go out and fix things. Control systems have to be maintained and this reduces the amount of science we can get done, compared to six people in a friendly environment here on Earth.
One of the main differences between the space station and other laboratories is that most labs work on only one experiment discipline, perhaps with variables. On the station, however, you really have to multitask; there are so many different investigations that people have wanted to do for a long time: biology and biotechnology, Earth and space sciences, education, human research, physical sciences, and technology. In a given day you could be doing experiments in all of these fields, which is different from other labs.
When interfacing with primary investigators on the ground, they are the scientists and I am somewhat of a tech operator while on the station. Astronauts are the hands-on connection, and there are good and bad parts to that. Sometimes we may need coaching from the investigator, but in exchange we bring an untainted perspective. We know what to look for from training, but we may notice some phenomenon that raises questions. This interaction is known as the human in the loop and it is really necessary. For instance, I was able to make unexpected observations for the Capillary Flow Experiment during my time on the space station. It was exciting to help scientists make new discoveries! There are some experiments we can automate 24/7, but others we don't really know if we will find something without a critical eye observation.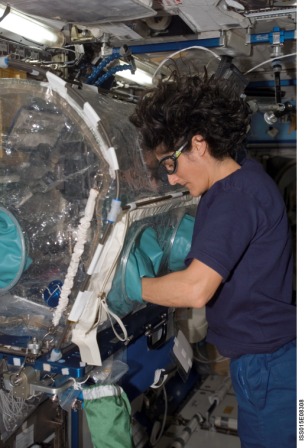 Astronaut Sunita L. Williams, Expedition 15 flight
engineer, works at a portable glovebox facility in the
Destiny laboratory of the International Space Station.
(NASA Image ISS015E08308)
Now that I have returned from my work on the station, I am amazed to see the results coming out. For instance, there has been some exciting progress in vaccine development and even an approach to delivering a chemotherapy drug, due to space station investigations. This research is targeted to benefit people all over the world.
We all have to be a little bit patient, however, in waiting for such findings. For instance, I flew in 2006 and it is now 2011 and we are just now starting to see these positive results. What is encouraging now is that since science experiments have been going on, they are building upon themselves and yielding results. Follow-up experiments will continue to further investigate the problems and seek answers. I think getting concrete results is the most rewarding part of working on the space station and now is the time that we should start seeing it more frequently as science experiments get done.
We have a decade to use this lab, and it is time to start investing in the work. We are going to have humans in space for the next 10 years living and working on the station. The research and technology testing will provide us enough data and information for us to smartly build the next spacecraft to take us a little bit further. We need to find out things about the human body, the atmosphere, the spacecraft and how it is surviving. We are investigating things that happen in low earth orbit, and this gives us the confidence for humans to go one step farther. So I hope this is the stepping stone and inspiration for the next generation of explorers. We have to go someplace else.
Suni Williams is a NASA astronaut with and flight engineer for the International Space Station. She launched to the station on STS-116 (December 22, 2006) as part of Expedition 14 and Expedition 15, returning to Earth with STS-117 (June 22, 2007). During her increment in space, Williams set a new record for females of 195 days in space. In today's blog, Williams shares her thoughts and perspective as a crewmember aboard the International Space Station with the readers of A Lab Aloft.