In today's A Lab Aloft, Charlie Quincy, research advisor to the International Space Station Ground Processing and Research director at NASA's Kennedy Space Center in Florida, shares the growing potential of plants in space and the new plant habitat that will help guide researchers. The blog continues in Part 2.

There are forces that work together on this planet that we take for granted when it comes to how plants grow and thrive. Here at NASA's Kennedy Space Center we are in the process of identifying those things and how we can engineer facilities that replicate them in the closed system environment of a space vehicle or habitat, such as the International Space Station.
Within closed systems, there is limited or no exchange with the broader environment, we are specifically interested in closing the water, oxygen, and carbon loops for long duration space flight.  We have found that plants have well defined processes to perform the conversions necessary to close loop when supplied with light energy.
The wonderful thing about plants is that they pretty much know what they are supposed to do, as long as you give them an atmosphere they like. There are a couple of things that microgravity makes a little more tricky. There's no convection mixing, for instance, in the atmosphere aboard the space station—which has a carbon dioxide (CO2) level of around 10 times what we see on Earth.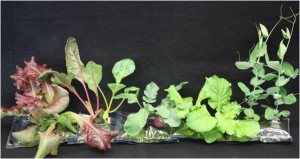 Crops tested in Vegetable Production System (Veggie) plant pillows (pictured here) include lettuce, Swiss chard, radishes, Chinese cabbage and peas. (NASA)
Plants take in CO2 and give off oxygen. This process occurs at the stomata on the bottom of the leaf; without convection mixing or wind, you get high concentrations of oxygen around the stoma and no CO2 coming in. We need to learn how much air movement in the chamber is necessary to force the oxygen away from the leafs and allow the CO2 to replace it.
Also, plants and their fruiting are very sensitive to various trace gases. Any time you have a closed system with little new makeup air being added, like aboard the space station, you have a buildup of trace gases. The gases, such as ethylene, that have a regulatory effect on plant growth need to be removed so plants can progress through their normal maturing process.
Without the force of gravity acting on the plant, we also have to make provisions to ensure the stems grow toward the light and the roots grow toward the water. The secondary capabilities of plants to orient themselves are still being worked out in basic science investigations.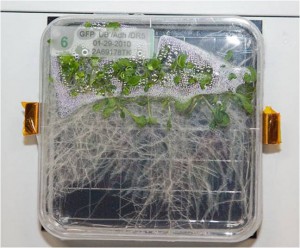 Crew image of the Advanced Plant Experiments on Orbit — Transgenic Arabidopsis Gene Expression System (APEX-TAGES) study during Expedition 23. (NASA)
Thinking about how this work relates to what we grow on Earth, Ray Wheeler, another NASA scientist, and I were in Chicago at a commercial activity called "The Plant" to see how the people there incorporate the concepts of bioregenerative farming into their operation. This is a group of people who took an old building, formerly a meat packing house, and are trying to create a closed ecological system. They use this environment to grow plants, produce products for their store, restaurant and production facilities, and they use the waste products to generate energy for the growth facility.
NASA is interested in these facilities because they are a large venture compared to our space station operations, facing similar but different challenges. We are basically trying to do the same thing on a small scale; somewhere in the middle is what might be on a space habitat. We are setting up systems in balance and to make this balance we need to incorporate buffers and reservoirs and manage energy needs.
We are looking for opportunities where people are having success in creating these balanced systems. Working with organizations like The Plant, we learn together and push information back and forth to achieve our mutual and specific goals. Urban farming is becoming more and more common around the world and our closed system space flight goals to manage energy use and producing fresh food have much in common. Working together with this broader community will bring more solutions into play and help to uncover the best options.
Farming is no longer isolated to rural areas and the agriculture industry is growing to include urban farms. If you look at a city like New York, you'll see little greenhouses on the roofs of almost every building. Many of those greenhouses are associated with the restaurants located on the first floor. If you have a Jamaican restaurant, for instance, they'll have herbs and spices they've brought from Jamaica that they grow on their roofs. Farming for immediate use is exactly what we're doing and we can learn from each other.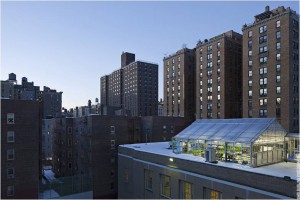 This New York-based rooftop greenhouse is an example of a closed ecological system here on Earth. (Credit: Ari Burling)
Within our ground research activities at Kennedy we have tested a broad range of crops and support systems in our growth chambers over the years. We have published hundreds of papers on our results, many of which have broad application for the agriculture industry. We also have seen and published results on the impacts of trace gases on food production, as well as different colored lighting and photo periods on plant performance. This type of information can have a tremendous impact on our global agriculture industry.
It's really interesting how everything ties together. By pushing the boundaries and adding to our understanding of plant life we can continue to learn from each other and share benefits. We can help plants on the ground and in orbit do what they do best: grow!
Charlie Quincy has been the Space Biology project manager at Kennedy Space Center for the past 13 years. His efforts include both flight and ground research aimed at expanding the current science knowledge base, solving issues associated with long-duration spaceflight and distributing knowledge to Earth applications. He is a registered professional engineer and has a master's degree in Space Technologies.