In today's A Lab Aloft entry, International Space Station Program Scientist Julie Robinson, Ph.D., continues the countdown of her top ten research results from the space station, recently presented at the International Astronautical Conference in Beijing, China. Be sure to check back for daily postings of the entire listing.
Number six on my countdown of the top ten International Space Station research results is an exciting finding for a new process of cool flame combustion. Cool flame combustion is an interesting term, because to a scientist a hot flame is in the range of thousands of degrees, while a cool flame is in the range of hundreds of degrees—600 to 800 degrees Celsius.
Aboard the space station, we use a facility called the Combustion Integrated Rack (CIR) for experiments where we burn droplets of fuel. In the image below you can see what that looks like in microgravity during the Flame Extinguishing Experiment (FLEX and FLEX 2) investigations. FLEX principal investigator Vedha Nayagam, Ph.D., National Center for Space Exploration Research/Case Western Reserve University, was honored with an award in recognition of this cool flame discovery at this year's International Space Station Research and Development Conference.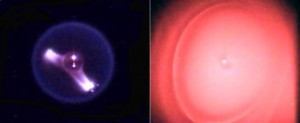 On the left you see a droplet of heptane fuel burning. You can see it burns in a sphere and doesn't look like a candle flame at all, because there is no density or buoyancy-driven convection on the space station. This means warm air does not rise in the same way as it would on Earth, so instead you get this blue, spherical flame. What's really interesting is what happens after the combustion quenches.
At a certain point in time, the combustion products start suffocating the oxidation reaction—the flame goes out. What was discovered with FLEX was that after a period of time, researchers saw an unexpected afterglow. In the right hand picture above you can see that event enhanced photographically.
That afterglow, it turns out, is combustion continuing at a much lower temperature (600 degrees Celsius or 1,112 degrees Fahrenheit—still hot enough to burn you!); a "cool flame." This was previously an unknown process, so it is too soon to say what the application of this finding will be over time. This first discovery was published in Combustion and Flame, but a lot of analysis and modeling will need to be done to include this new process in our understanding of combustion without gravity. I think it's obvious to see, however, that if you can learn about a new property of combustion that was not in the models before, there should definitely be applications to help in the design of more efficient combustion in processes on the ground. It just may take a while before we see them come to fruition.
The amount of combustion research done aboard the space station far exceeds all the combustion studies done in space over the last 50 years. Having a 24/7/365 laboratory makes all the difference in making discoveries.
Julie A. Robinson, Ph.D.
International Space Station Program Scientist