In today's A Lab Aloft we hear from William Wells Jr., aSTEAM Village SSEP Kansas City program director, as he shares the difference made in the lives of students when schools work together to support education opportunities. These students literally reach for the stars with the Student Spaceflight Experiments Program when they send their studies to the International Space Station.
Many U.S. students lack foundational skills and knowledge in science, technology, engineering, and mathematics (STEM, or with art added STEAM) as a result of the absence of authentic learning activities in STEM subjects. They have little to no exposure to highly competent role models in STEM fields and limited opportunities to think critically, solve problems, research, publish and hypothesize.
Through the Student Spaceflight Experiment Program (SSEP), which is led by the National Center for Earth and Space Science Education (NCESSE), Benjamin Banneker Charter Academy of Technology in Kansas City, Missouri, engaged with other public and private school districts through aSTEAM Village, and I am honored to serve as the SSEP Kansas City program director. I work to fulfill the aSTEAM Village mission of helping to level the playing field for students in the Kansas City area. Our goal is to ensure all students are exposed to 21st-century knowledge through an expanded learning strategy in before/after-school and regular classroom environments using STEAM curriculum.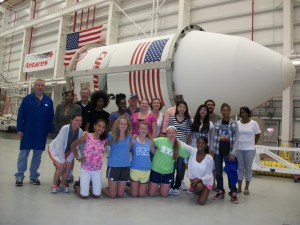 Through this in-depth program, our community's students are presented an opportunity to be immersed in a high-profile community science competition. The objective is for students to submit an experiment that they hope will be selected to ferry to the International Space Station. Aboard the orbiting laboratory astronauts will perform the student experiment in microgravity. Meanwhile, the students conduct the ground truth of the study here on Earth. This is a real space program and not a simulation!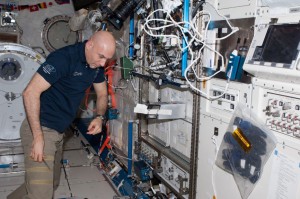 I was speaking recently with Marian Brown, Ed.D., superintendent for Benjamin Banneker Charter Academy of Technology, who shared with me the difference she has noticed in students attending aSTEAM Village partner schools through their participation with SSEP.
"We are so pleased that teachers and mentors have embraced the struggle to immerse and engage students in every facet of real science to ensure all students are provided the chance to explore the scientific method, as well as experience science firsthand. More importantly, we have observed an increase in our students' capacity for hard work, perseverance and resilience. In addition, this program and partnership will help alter the path of children's lives by fostering creative thinking, real-world problem-solving and true innovation for urban revitalization."
I was not surprised that Dr. Brown's thoughts were echoed in a conversation I recently had with Kristen Marriott, a middle school STEM teacher who has been involved with SSEP in three missions at two different aSTEAM Village partner schools: Della Lamb and Crossroads Academy. Marriott believes that the best thing about the program is watching the students problem solve and work collaboratively.
"They start the project as individuals but end up as a group, working through difficulties and limitations together. I have been amazed with the variety of experiments the students have proposed. We truly have a generation of STEM leaders making their way through school at this time."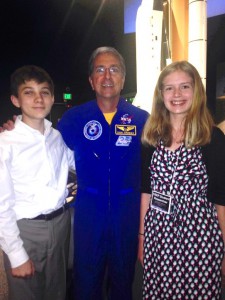 I think it's safe to say there is plenty of evidence to support Marriott's assertion. Two teams from another aSTEAM Village community partner, St. Peter's School, had two flights selected, Mission 5 and Mission 6, which Robert J. Jacobsen, the school's science teacher and SSEP coordinator said, "provided not only St. Peter's, but the Kansas City community, a sense of achievement and pride."
It has been fun watching the students reap the rewards of their diligent work and effort, from brainstorming and proposing ideas to presenting their projects at the NCESSE 2014 National SSEP Conference in Washington. The student researchers, grades 5-8, discovered the need to be flexible yet manage their time and energy. They learned to value review boards, both at the local and national level, and the important input that they had to offer. The student teams also mastered answering questions from the media (and what a wonderful job they have done). We have seen the enthusiasm of the student teams involved with both Missions 5 and 6 act as a motivating force for the Mission 7 teams who have just completed their proposals to be evaluated by the local review board.
Through mostly local funding, SSEP also provided the opportunity for the Mission 5 finalists and first-time SSEP participants from the Kansas City area to get a life-altering VIP tour of NASA's Wallops Flight Facility in Virginia. The aSTEAM Village students, from six different public, charter and private schools, had the opportunity to learn, explore and enjoy an experience of a lifetime in the Chincoteague, Va., and Washington, D.C., areas.
For several of the students, it was the first time they had ever left the immediate Kansas City area. The highlight of our trip was the visit to the flight facility center where the flight project manager made it his point to host the tour. He spent several hours with the students, teachers and chaperones. What came forth was the utmost and genuine enthusiasm and passion for science and engineering that the individuals and teams of the flight facilities displayed. This experience was so important and it definitely left an unforgettable impression upon both the students and us adults in the Kansas City delegation.
I have been truly amazed to see the realization of the vision of NCESSE director, Jeff Goldstein, Ph.D., and his message to educators, students and parents that, "the world is a classroom." It is an honor to serve as SSEP Kansas City program director as this program not only has all of us mentors, students and parents looking to the skies and beyond, but it also without question, has inspired the next generation of scientists, technologists and engineers. More importantly, it is infusing the confidence in the student researchers that indeed they can become whatever they want to become, because at a very early age of their life they can truthfully say that participation in SSEP has made them a part of America's space program.
Seeing these kids take to STEM, NASA can rest assured that SSEP will produce their next wave of talented explorers and leaders. They'll be ready for hire when NASA ushers our nation deep into the galaxy and beyond over the next century. I know from my experience with these bright and enthusiastic student scientists that they'll take us great places!
SSEP and its passionate team are a wonderful gift to the younger generation. We need people to challenge the young minds. They indeed are the future. Go, SSEP!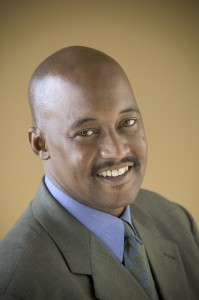 William Wells, Jr., is a seasoned tech professional and entrepreneur who leverages his knowledge and expertise to inspire the next generation of STEAM professionals as the aSTEAM Village SSEP Kansas City program director. He has successfully formed collaborations among a diverse coalition of schools to bring unique STEAM-related programming to hundreds of K-8 students through the aSTEAM Village. Wells currently serves as the lead robotics and computer science instructor at Benjamin Banneker Charter Academy of Technology. He has been named the National and Local Black Engineer of the Year and attended the Tuck School of Business at Dartmouth College and Kansas City Kansas Community College.
The Student Spaceflight Experiments Program (SSEP) is a program of the National Center for Earth and Space Science Education (NCESSE) in the U.S., and the Arthur C. Clarke Institute for Space Education internationally. It is enabled through a strategic partnership with NanoRacks LLC, working with NASA under a Space Act Agreement as part of the utilization of the International Space Station as a National Laboratory. SSEP is the first pre-college STEM education program that is both a U.S. national initiative and implemented as an on-orbit commercial space venture.