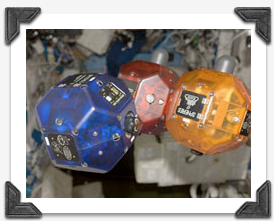 You won't find any light sabers on the International Space Station, but you will find a trio of "droids" that look a lot like what any self-respecting science fiction fan remembers as a Star Wars "remote." 

That's the tricky little device that Luke Skywalker used to hone his light-saber skills before he went up against Darth Vader and the rest of the Evil Empire. 

But instead of being used for light-saber practice, the droids on the space station are being used to test automated rendezvous and formation flying in microgravity. And soon, there may be a host of other things the droids will be used to test, as their capabilities and uses are expanded and made available for National Laboratory and other uses.
With support from the Department of Defense and NASA, Miller's undergraduates built five working droids. Three of them are on the station now.