As we have gone to virtual meetings, we get to look into the lives of our collaborators and friends in ways we never see under normal circumstances. And as we start December and holiday season, we also remember our traditions that are defining, in part, where we are from and who we are. Let me share a glimpse into one of my traditions and specifically what I did all Sunday.
Besides Holy Evening and Christmas on December 24th and 25th respectively, and St. Nicklaus Day on December 6th, there was ONE holiday tradition that meant everything to me as a kid – the day we made Christmas Cookies.
Many of you know that my father was a preacher and leader of a religious evangelical community, but few know that he was a professional baker before that time. He had gone through an apprenticeship and learned how to make bread, assemble cakes, bake cookies and much more.
So that day in early December each year was a family highlight: we would all come together as a family and contribute as best we could as my father was stepping  back to his first career as a baker. When we were little kids, all we could do is cut stars or hearts out of the cookie dough or eat some left-overs and later we got to do more. But my father set the speed and accuracy in a logistically challenging activity of baking 5-10 types and batches of cookies with one oven in sufficient quantities to last for the entire holiday season.
I have lived in the United States for almost 25 years and I have never baked any of the Swiss cookies until this year. I honestly cannot explain why not – too busy, too lazy? I always loved them and they fill me with the inner warmth of memories of a great family holiday tradition.
So, when our daughter Maria returned from her exchange year to Switzerland, she brought with her the same love for these cookies. And now, there was no escape.
On Sunday morning around 9 am, and after the necessary coffee, we made a plan to bake 7 different batches of cookies. We got help during a phone call to my older sister in Switzerland – the keeper of our family traditions – who gave us some "how-to"s and tricks and we were off to the races!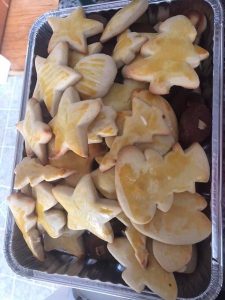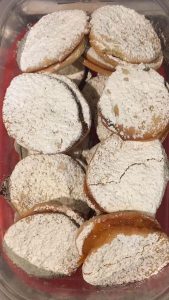 I totally loved the 5-6 hrs of family-time and the satisfaction of making something with nearly instantaneous and beautiful results! (In the pictures you'll see  Zimtsterne, Mailänderli, Vanille and Choco Sablés, and Spitzbuebe.)
And I loved remembering the childhood memories and even some tricks my father showed me. I specifically remembered his soft hand guiding mine as a kid and me observing him in the kitchen and how he handled steps in the process.
And I profoundly missed my father and my mother who have left this world within the last few years. In moments like this, it feels like we chatted only last week and we said good bye with a warm hug and a kiss on the cheek just a month ago! And the sorrow is right back in my life and a big awareness of the hole that will never be filled again. We will always love them and miss them.
With that, I wish all of you, our NASA colleagues and collaborators nothing but the best for this months and for the year to come. I hope you have already ordered our amazing 2021 calendar – another SMD tradition – and if not, you can do so, here:
in English
and
in Spanish
.