We all know what a tough year it's been. At this year's meeting of the American Geophysical Union (AGU), however, it's been great to see so much hope delivered by science, to see how much discovery and enthusiasm for exploring our world and our universe continue no matter what. The AGU always provides thought provoking presentations and discussions. But this year in particular, it demonstrates the power of science to bring us together as a community to explore unique questions and look at our planet and the cosmos through fresh eyes.
Our world's quarantine for much of the year has resulted in some dramatic observations from our Earth orbiting satellites, and those findings have been on display with posters and presentations and many dialogues at AGU.
One thing I'm particularly proud of is a partnership in response to the global pandemic by NASA, ESA (European Space Agency), and JAXA (Japan Aerospace Exploration Agency), who joined forces this summer to use the collective scientific power of their Earth-observing satellite data to document planet-wide changes in the environment and human society. And we made the wealth of our agencies' collective information available at the touch of a finger, free and open to all.
In an unprecedented collaboration, the three space agencies created the joint COVID-19 Earth Observation Dashboard, which integrates multiple satellite data records with analytical tools to allow user-friendly tracking of changes in air and water quality, climate change, economic activity, and agriculture.
This tri-agency data resource gives the public and policymakers a unique tool to probe the short-term and long-term impacts of pandemic-related restrictions implemented around the world. The dashboard will continue to grow with new observations added over the coming months as the global economy gradually reopens.
And now at AGU, we three agencies have signed a declaration to continue this valuable global resource through June of next year. Below, I've pasted the text of our shared declaration, read at and AGU at the panel 'Science in the time of COVID-19,' but I want to leave you with the words of my friend, Dr. Michael Freilich, about why we do things such as the COVID-19 Earth observation dashboard.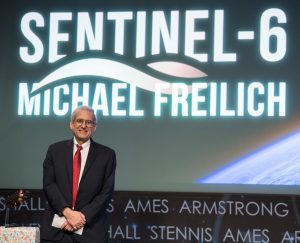 Mike said, "Earth system science is bigger than any particular agency.  It's bigger than any single nation.  It's bigger than any single continent. And I surely hope, because humanity requires it, that we make some significant progress in understanding it."
With that strong message from an inspirational leader, here's the declaration: 
Joint Declaration at the American Geophysical Union, December 2020, by NASA, ESA and JAXA
Today NASA, ESA, and JAXA commit to continue through June 2021 to advance their joint work in understanding the environmental changes in air quality, greenhouse gases, water quality, agriculture, and economic activity due to COVID-19, an effort that began in April 2020 with the establishment of a tri-agency Earth observation dashboard. This decision continues the unprecedented collaboration, and open sharing of data, modern indicator analysis, open source analytical tools and scientific knowledge and expertise involving our agency experts to integrate agency datasets to observe, analyze, and communicate COVID-19 related environmental changes to the public and to policymakers around the world. Over the next 6 months, the agencies will continue to jointly advance our understanding of the effects of COVID-19 on the Earth from the unique perspective of space while making the data openly available through the joint dashboard.
Over the next six months, additional data will be collected to further enhance the indicators and to allow the study of more regions and hot spot areas impacted by COVID-19. Socioeconomic and other field experts will be invited to collaborate and accelerate the analysis and understanding of the impacts enabled by the open dashboard datasets.
In addition, NASA, ESA, and JAXA will welcome other space agencies and organizations sharing similar values to join this initiative and contribute with their data and expertise to further expand this international Earth observation dashboard.
Thomas Zurbuchen, Associate Administrator Science Mission Directorate at NASA
Josef Aschbacher, Director, Earth Observation Programmes at ESA
Koji Terada, Vice President and Director General, Space Technology Directorate I at JAXA