Nov. 17, 2020 – Dangerous Hurricane Iota Sets Late-Season Records
Less than two weeks after being hit by category 4 Hurricane Eta, several Central American countries braced for the arrival of category 5 Hurricane Iota. NASA and NOAA covered the storm with an array of Earth-observing instruments.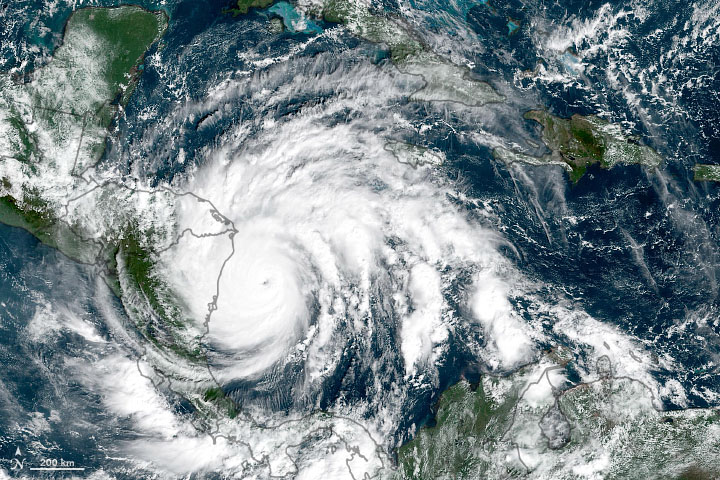 Iota is the strongest hurricane and 30th named storm of the 2020 Atlantic season, the most since modern record keeping began (breaking the previous record of 28 set in 2005.) It also marked the first time that two hurricanes have formed in the Atlantic in any November. Iota is the 13th storm to reach hurricane strength this year; the average hurricane year brings six hurricanes.
On November 16 at 1 p.m. EDT, NOAA's National Hurricane Center (NHC) issued hurricane warnings for large portions of coastal Nicaragua and Honduras as the storm approached landfall. Iota had strengthened to a category 5 storm with sustained winds of 260 kilometers (160 miles) per hour.
Iota made landfall at 10:40 p.m. EDT as a Category 4 hurricane with maximum sustained winds near 155 mph (250 kph) along the northeastern coast of Nicaragua near the town of Haulover, about 30 miles (45 km) south of Puerto Cabezas. Hurricane Iota's landfall location was approximately 15 miles (25 km) south of where Category 4 Hurricane Eta made landfall on November 3.
The National Oceanic and Atmospheric Administration (NOAA) GOES-16 satellite (one of many geostationary NOAA satellites developed and launched by NASA) captured a natural-color image on Nov. 16 at 10 a.m. local time when the storm was at its peak strength. Iota's eye was visible and surrounded by powerful thunderstorms.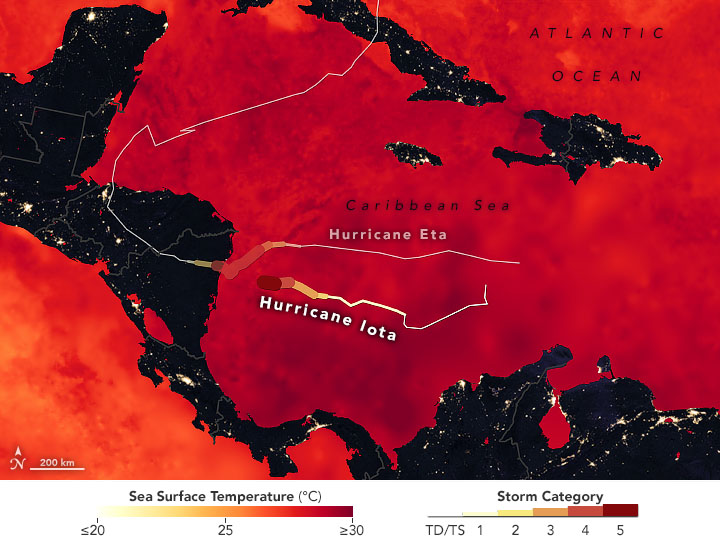 Iota developed on Nov. 13 and strengthened to a hurricane two days later. Iota rapidly intensified in the warm waters of the Caribbean Sea. Within a day and a half, Iota's wind speeds increased by 160 kilometers (100 miles) per hour.
Ocean temperatures must be near or above 27° Celsius (80.6 Fahrenheit) to sustain a tropical cyclone. Using data from NASA's Multiscale Ultrahigh Resolution Sea Surface Temperature (MUR SST) project, NASA created a temperature map that showed sea surfaces in the Caribbean Sea and Gulf of Mexico at least that warm or warmer, which allowed for support and strengthening Hurricanes Iota and Eta. MUR incorporates temperature data from multiple NASA, NOAA, and international satellites, as well as ship and buoy observations.
By Michael Carlowicz, with scientific interpretation from Timothy Hall of the NASA Goddard Institute for Space Studies. For a more detailed version of this story, check out NASA's Earth Observatory website.