Aug. 31, 2019 – Update #2 – NASA Watches as Category 4 Hurricane Dorian Still Heads for Northwestern Bahamas
The latest National Hurricane Center (NHC) advisory has Hurricane Dorian on a collision course with the northwestern Bahamas sometime on Sunday and moving near the Florida east coast late Monday into Tuesday.  Still a Category 4 some fluctuations in intensity are likely within the storm, but Dorian is expected to remain a powerful hurricane during the next
few days.
NOAA-NASA's Suomi NPP satellite, GCOM-W1 and NOAA-20 all passed over Dorian in that order, right around the 2:00 am EDT NHC advisory, each observing unique features.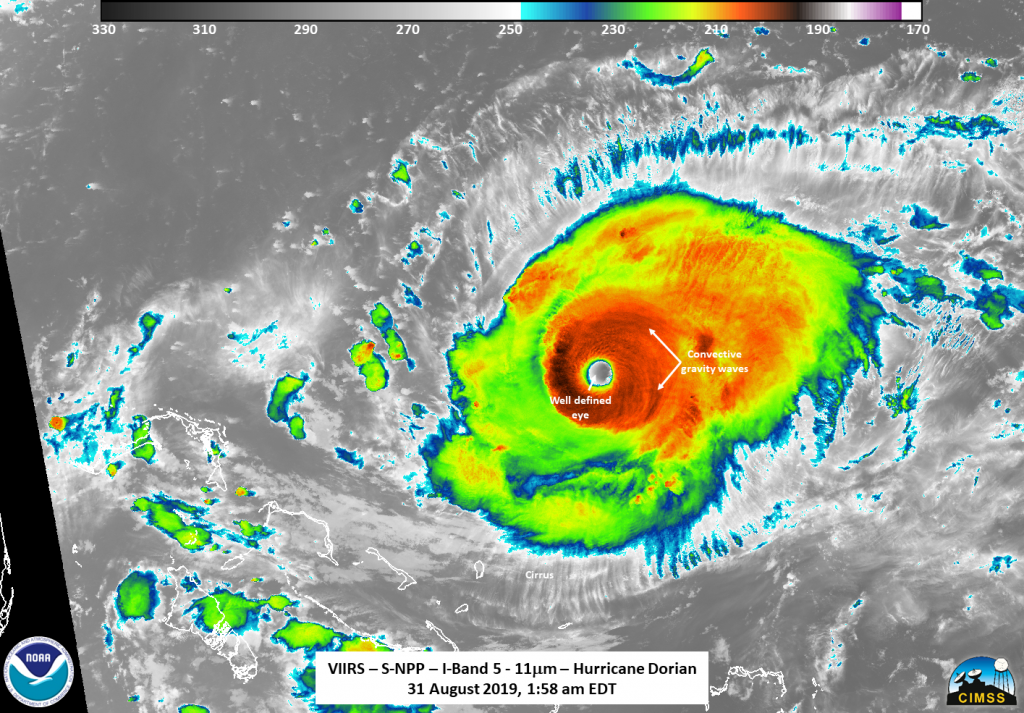 At 1:58 am EDT (0558 UTC) on Aug. 31, 2019, Suomi NPP caught Dorian on the west side of the scan showing a well-defined eye that can be easily seen along with different cloud bands.  A lone lightning strike is seen within the storm in the southern portion. Infrared imagery also spotted tropospheric convective gravity waves flowing away from the intense storm.  The NHC remarked at 2:00 pm EDT (1800 UTC) that Hurricane Dorian was exhibiting a very distinct eye 15 nautical miles across.
Roughly 50 minutes later at 2:48 am EDT (0648 UTC), NOAA-20 flew over Dorian close to top-down. The infrared imagery continues to show convection gravity waves consistent with an intense storm.  The successive passes showed the rotation of the storm at high resolution. The zoomed out Day Night Band imagery showed the structure of Dorian quite well, even though there was no moonlight present, along with mesospheric gravity waves being flung far away from the storm.
It is only when a storm is well developed that the refined eye appears giving forecasters an idea of the center of circulation.  Aircraft and dropsonde information also provide crucial information about the surrounding environment of the storm, albeit at select points within the storm.
At 2:23 am EDT the AMSR2 instrument on the Global Change Observation Mission – Water "Shizuku" satellite (GCOM-W1), a Japan Aerospace Exploration Agency satellite, caught Dorian on the western side of the scan and the well-defined eye was evident as well as hints of perhaps a secondary set of convection about halfway around the inner eye. While nothing was mentioned about an eyewall replacement occurring in the 5am NHC advisory it is possible that the Advanced Microwave Scanning Radiometer 2 (AMSR2) caught one of the eyewall replacement cycles.
Dorian is currently located latitude 26.1N and longitude 73.9W about 205 miles (325 hkm) east of Great Abaco in the Bahamas and about 385 miles (625 km) east of West Palm Beach, FL.  The Air Force reconnaissance plane recorded the maximum sustained winds remain consistent at 150 mph (240 km/h).  As a point of comparison Category 5 strength winds begin at 157 mph (251 km/h). Hurricane Dorian's movement has slowed to 8 mph (13 km/h) which gives this storm more time over open warm waters to continue to gain strength.  The barometric pressure is steady at 945 mb.
Hurricane-force winds extend outward up to 30 miles (45 km) from the center and tropical-storm-force winds extend outward up to 115 miles (185 km).
For more information on the storm visit:  https://www.nhc.noaa.gov
By Lynn Jenner
NASA Goddard Space Flight Center