In today's post, International Space Station Program Scientist, Julie Robinson, Ph.D., shares the experience and benefits of Destination Station with the readers of A Lab Aloft.
Destination Station is a new endeavor that we have as a resource to help bring information about the International Space Station to the public. The goal of this traveling exhibit is to inform people around the country about this amazing orbiting laboratory and resource by visiting different host communities. Destination Station includes a fantastic museum exhibit that actually lets visitors walk through a mockup of the same shape and size of the modules on the space station. It also has interactive videos and posters, in addition to artifacts for people to look at.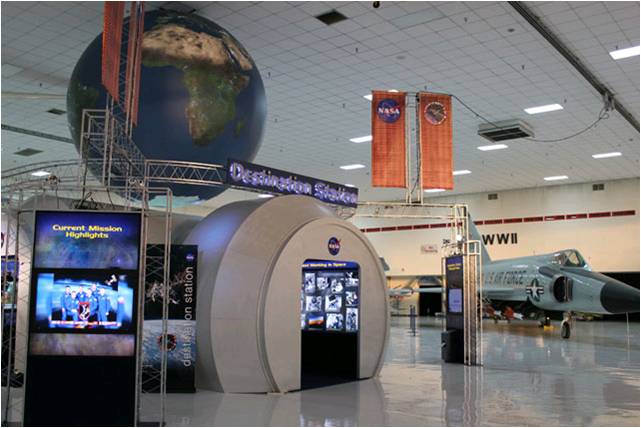 The Destination Station exhibit will travel around the country to help inform the public about the International Space Station and promote research and education opportunities.
(Credit: NASA)
When the Destination Station exhibit arrives in a new community, there are about two weeks of different events that come with it. One major focus area includes educational activities, both linked to the host museum and to schools in the local community. NASA educators come in and bring some of our outstanding education programs out to different schools. They also set up communication events where students can experience a live downlink and talk with astronauts on orbit, asking them questions about station research and what it's like to live in space.
Once Destination Station moves on, resources are left behind so that area teachers can continue to use space to get their students focused on science, math, and engineering. Studies have shown that students are interested in space—If you think about two things that get students excited about science, it's space and dinosaurs. We can't provide dinosaurs, but we do have a lot to share about space.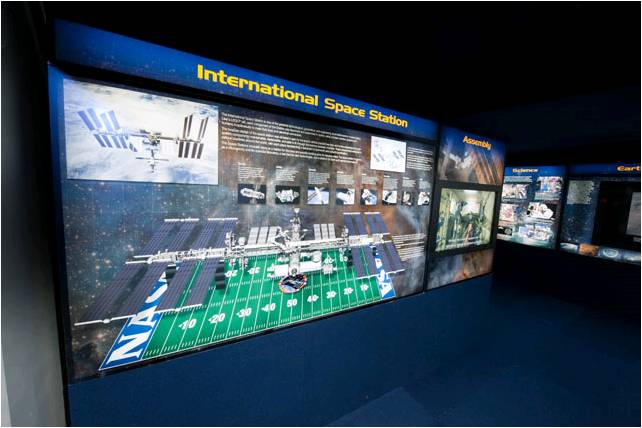 The Destination Station exhibit includes interactive posters, like the one pictured above showing a scale image of the station with a size comparison to a football field.
(Credit: NASA)
The other important aspect of Destination Station is reaching out to the business community. For example, at the most recent event in Denver, Colorado, there was a pretty large technology savvy population. Astronaut Mike Good and I had a chance to speak with state representatives and business leaders as part of the Destination Station scheduled talks. Through this forum, we had the opportunity to share with those leaders the importance of the space station and space exploration for the American economy. We focused on how research results and technology developments keep our country on the cutting edge, serving as an economic engine that drives innovation and business economies around the world.
The response from the Denver and Colorado-based business community was just outstanding! These community leaders were really interested in what is happening with the space station and the potential boost to economic growth. In fact, many of the businesses are already evolving technologies developed for aerospace and space research into Earth-focused products and services. Examples include things like clothing made from phase change materials, superior plant growth media, and GPS tracking services.
The Destination Station exhibit includes interactive posters, like the one pictured above sharing information about research in space.
(Credit: NASA)
In the Colorado area there are a number of companies that focus on working with scientists to help them do research on the space station. These businesses hosted a fair at Destination Station to reach out to those interested in translating their research from the university lab bench to the space environment. Scientists could go, see the hardware, and talk to providers experienced in taking ground-based research and putting it up into space. Bioserve Space Technologies demonstrated all of the hardware available at the fair.
Destination Station is a great combination of events for everyone from the students to the general public to researchers. Earlier in the year we also took the exhibit to the Ohio area, with events in Cleveland and Columbus. There are talks with universities and civic groups, it's just a really exciting two weeks when Destination Station comes to town. We hope to see you at the next location for Destination Station stop in the San Francisco Bay area in early March 2012.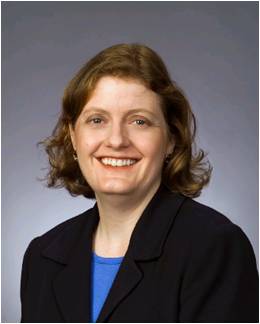 Julie A. Robinson, Ph.D.
International Space Station Program Scientist