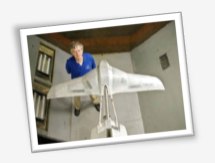 NASA Explorer Schools invites K-12 students to join a live chat on Jan. 21 from 2 – 3 p.m. EST with Dr. Joel S. Levine. Dr. Levine is the Chief Scientist of the ARES Mars Airplane Mission, and will answer questions about the the development of a robotic, rocket-powered airplane that will fly through the atmosphere of Mars to search for evidence of life by looking for trace gases of biogenic origin. 
Join the chat at https://www.nasa.gov/offices/education/programs/national/nes2/home/live-chat-Levine.html

An archive of the chat will be posted shortly after the chat ends.