Today, NASA and the entire science community mourns the loss of Dr. Michael Freilich, former Earth Science Division Director and trailblazer. Mike was a force of nature in Earth Science for decades, and his loss will be deeply felt.
It was NASA's great privilege earlier this year to join our European colleagues in naming an ocean observing satellite launching this fall in his honor, and in that spirit, I want to celebrate Mike's life and accomplishments, and his legacy.
I had the pleasure of serving with Mike during the early days of my tenure as head of NASA science, and I quickly grew to respect his keen mind and his passion for telling the story of our planet and what we could learn from it as well as about it.
Earth Science shows perhaps more than any other discipline how important partnership is to the future of this planet. Mike exemplified the commitment to excellence, generosity of spirit and unmatched ability to inspire trust that made so many people across the world want to work with NASA to advance big goals on behalf of our planet and all its people. The fact that ESA and the European partners gave him the unprecedented honor of naming a mission after him demonstrates that respect and admiration. When Sentinel-6 Michael Freilich launches this fall to study Mike's beloved oceans, he will truly take to the heavens.
Those who worked with Mike respected him. His knowledge and his forthrightness. His willingness to make the hard decisions. These were all characteristics that made him the leader he was. He always wanted to do the right thing – for NASA and for Earth Science – and I learned a lot from his example. His strength was in his directness. You always knew where Mike stood! And that counts for a lot, not only in the workplace, but also in science as a whole.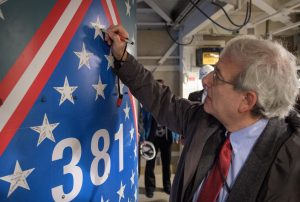 Because of that quality, and the breadth of knowledge backing it up, people across the world trusted Mike. He had high standards, and held no one to a harder standard than himself. Many missions launched under Mike's watch, and things happened that wouldn't have been possible if he hadn't been there to push them through, to see that NASA remained true to its spirit of international partnership as we study our home planet – the only one we have!
We've lost a trailblazer, but we will feel his presence as his namesake orbits above us, continually reminding us to be vigilant sentinels, to keep learning, and to keep doing the right thing for each other and our planet. Godspeed, Mike Freilich. You are missed already.